A Whole New
Ball Game
Dismayed by the destruction of coral reefs around the world, Todd Barber quit his high- paying job as a management consultant and went to work designing a new type of artificial reef.

His invention: the Reef Ball, an eco-friendly chunk of concrete that resembles a four-foot-high mound of Swiss cheese. Designed to mimic natural coral heads, Reef Balls, according to Barber, are cost effective, easy to install, and more aesthetically pleasing than the sunken ships, discarded tires, and old toilets typically used for artificial reefs.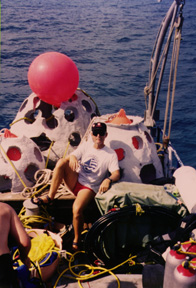 Courtesy of Reef Development Group, Ltd.