Artificial Reef at Long Bay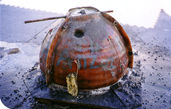 An artificial reef made from 'reef balls', is being built at the Long Bay Marine Reserve by staff and students from the Earth and Oceanic Sciences Research Centre (EOS) at AUT.
Professor John Buckeridge, the Director of EOS, says the University has been given resource consent by the Auckland Regional Council to build the reef. The reef will become an education resource for schools, a recreation site for snorkellers and divers and a home for many species of marine life.
The team will create an artificial reef by using reef balls - a concept developed by an American diver and since used in over a thousand projects worldwide. The balls are used to create habitats for fish and other marine species.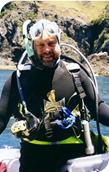 The project leader is Jonathan Jaffrey, a physics and science teacher at Long Bay College, who is the Royal Society Teaching Fellow at EOS for 2001.
"This is an example of affirmative action for the marine environment. What we are hoping to do is enhance the biodiversity in the bay and counteract some of the damage that has been done in the area.
"This is the first time reef balls have been used to create an artificial reef in New Zealand, but if we are successful it hopefully won't be the last," Mr Jaffrey says.
The reef balls are made of concrete and are designed to mimic natural reef systems. A fibreglass mold is made of the balls and then concrete is poured into the mold. The balls have holes in them so that the energy from waves does not cause damage or movement. Once made and aged, the balls are floated with internal bladders, to the reef site and then lowered to the sea floor by deflating the bladders. The balls are then guided into place and the bladders removed.
At present the balls are being constructed using a special formulation of concrete. The team, however, want to research the possibility of using ordinary waste concrete.
"It is my dream that waste concrete from around the country can be used for a good purpose like this. If our research shows we can use ordinary or waste concrete without harming the environment then reef balls would become a feasible option offshore," Mr Jaffrey says.
AUT students Trent Taylor and Claire Barnaby and two exchange students from Germany - Marco Peter and Sebastian Otto - will be assisting Mr Jaffrey on the project. The team has already begun testing and building the reef balls. About 25 balls will be used in the Long Bay Marine Reserve.
For further information about other reef ball projects worldwide check out http://www.reefball.com/.