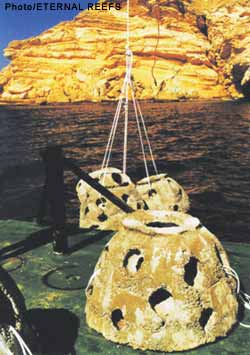 Burial option combines human remains with artificial reefs
Memorials to be placed for the first time
off Fort Lauderdale beach
By BETH FEINSTEIN-BARTL
Waterfront News Writer
Chris Zook loved the water. "He always fished and dived for lobster," said Zook's aunt, Cindy Larschan, of Palm Beach Gardens. "It's been his whole life, since he was old enough to walk."
Before his death last year at age 37, Zook, a Lake Worth resident, saw a news story on television describing how people's remains are incorporated into reefs, and told his family that was what he wanted, Larschan said. On Oct. 1, Zook's wish will be granted. His loved ones will board a chartered boat to watch divers place a permanent memorial bearing his cremated remains underneath the ocean, one mile off Fort Lauderdale beach.
Zook's memorial will be one of 15 sphere-like structures that will be installed by an Atlanta, Georgia-based company called Eternal Reefs, Inc. The firm has been creating and placing memorial reefs since 1998 by incorporating cremated remains into a concrete mixture that creates a sphere-like structure with holes that some say resembles a giant ball of Swiss cheese.
Eternal Reefs has some 100 reefs on the Atlantic and Gulf coasts. In Florida, reefs have been placed in Manatee, Sarasota and Collier counties. The deployment off Fort Lauderdale will be the firm's first memorial in Broward County, said Don Brawley, company president. "We have a number of people in the area who were interested in having a memorial reef created," he said.
Fifteen families will be watching as memorials holding their loved ones' remains are placed in the waters off Fort Lauderdale. The individual reef balls will be in a grouping to create one large community reef, Brawley said. Each ball will bear a plaque and families will be provided with the latitude and longitude data, in the event they want to make future visits.
Based on requests, the company will create more memorial reefs in South Florida, Brawley said. Depending on its size, the company's reef balls can hold one to four sets of cremated remains. The smallest memorial is two feet high and three feet wide and weighs 400 pounds. The largest is four feet high and six feet wide and weights 4,000 pounds, Brawley said. Costs range from $850 to $3,200, not including the cost of cremation, he said.
The company can create a reef using a single sphere, or by placing several together. Not every sphere has to contain cremated remains. In cases where the person has been buried or their ashes have been scattered, family members can opt to have a reef ball created without the remains, he said. A cofounder of Reef Ball Inc., Brawley's company developed an artificial reef module in the early 1990s. In 1998, Brawley's father-in-law was diagnosed with a terminal illness and asked that his remains be mixed into one of the modules and placed on the ocean floor. Brawley's father-in-law passed away a few months later and his wish was granted. Other people heard and began making requests.
Since he began creating the memorials, Brawley said there is no real typical customer or family. However, the one common thread that runs between them all is their love of the environment, he said. Once placed, the reef balls provide a habitat for fish, coral and sponges. "This is a memorial that creates a living legacy for generations to come and that's very appealing to people," he said. "People want to do the right thing with their loved ones' remains and we offer the only environmentally positive burial option."
Bob Logan, of Tavares, believes the memorial is the perfect closure. He and his family intend to watch as a sphere bearing the remains of his son, Scott, will be placed off Fort Lauderdale
Scott Logan, a former Orlando resident, died at age 37 of cancer last year. His wife kept his ashes and the family had been in a quandary over what to do with the remains, said Bob Logan. One day, Scott Logan's wife, Becky, spotted a story on Eternal Reefs in the newspaper. "When she sent me a copy of this, we all said this is Scotty," said Bob Logan, who describes his son's background as "strictly water." "He fished, swam, did scuba diving and was a blue water sailor," said Bob Logan. "He just loved the water. I know this is where he wants to be." When the time comes for Bob and his wife, Mary, the couple have put in their wills that they want their remains mixed into a concrete sphere and placed next to their son's memorial.

For more information, Eternal Reefs has a web site at www.eternalreefs.com .