The next time Tami Smith of Darlington pays respect to her late son's remains, she'll be wearing scuba gear.

She wants to take up diving to visit her son's cremated ashes, which were part of an artificial reef placed on the seafloor Monday 2-1/2 miles off Charleston.

"It's permanent," Smith said from the top deck of a charter fishing boat as it steamed past Fort Sumter. "It's not like you just throw the ashes into the wind and they are gone."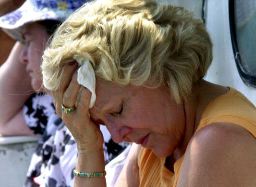 YALONDA M. JAMES/STAFF
Nancy Davis of Myrtle Beach weeps as she buries her husband, Calvin Coolidge Davis, from aboard the Carolina Clipper off Charleston on Monday. Eternal Reefs incorporates human remains into reefs and places them in the sea as a lasting memorial.

Underwater, she'll identify the reef by mementos concreted into it at a recent casting ceremony -- a 2001 penny that marks the year her son took his own life, a sun medallion and an impression of Smith's handprint.
It's not uncommon for people to take up diving or boating after their family members' cremated remains are placed underwater, said Don Brawley, president of Eternal Reefs, the Atlanta-based company that organized Monday's placement of eight reefs.
"It's not like visiting a cemetery," said Brawley, whose 5-year-old company has placed more than 200 memorial reefs at sea along the East and Gulf Coasts. "Next time they hear about an oil spill in the ocean somewhere it makes them more sensitive. They ... have this attachment to the sea."
The eight reefs divers placed Monday join 25 others lowered by crane in January 2001 off Charleston. Ranging in price from $850 to $4,000 and weighing anywhere from 400 to 4,000 pounds, the reefs are part of a larger state-sponsored effort to create habitats for marine life.
"It's a life that gives back," said Brad Evans of McAlister-Smith Funeral Home, which helped organize the ceremony. "With our population choosing cremation more and more, this just gives you another option."
Like Smith, most of the 30 people who rode to the reef site said their family member or friend had some link to the water.
Denise Gulledge of Myrtle Beach tossed a handful of yellow carnations and red roses overboard to mark her friend's final resting place as someone read aloud a fitting book passage over the boat's PA system:
"We are tied to the ocean," John F. Kennedy said in his 1962 book "The Sea." "And when we go back to the sea -- whether it is to sail or to watch it -- we are going back from whence we came."
The flowers drifted in the boat's wake as it headed back to shore.
Gulledge said she needs two more dives to become certified. Then she can visit the reef of her friend, Calvin Coolidge Davis, who she said became a surrogate dad to her during the decade they were neighbors in Myrtle Beach.
Swaying in a slight chop aboard the Mount Pleasant-based Carolina Clipper, she and Davis' relatives shared their memories of a boisterous and fun-loving man who served in the Navy during World War II and the Korean War.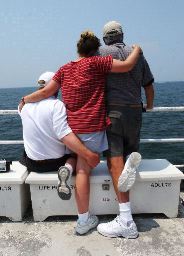 YALONDA M. JAMES/STAFF
Brian Ewing, his wife, Tami, and her father, Tim McGhee, hold each other after burying Tami's mother and Tim's wife, Donna McGhee, off Charleston on Monday.

Before cancer claimed his life last year at 78, he lived for martinis, swing dancing and walks on the beach, they said.
"He loved the water. It was his big pond," Gulledge said. "Now, I just have to figure out how to get a martini out there."