Reef Balls to Promote Marine Life
- as we are coming to the beginning of a new millennium 58% of the world's reef's are at risk
II. Artificial Reefs are used to replace damaged natural reefs which are home to thousands of species of marine life:
-REEF BALLS are an excellent choice for artificial reefs
III. Why Reef Balls ???
Fish Diversity and Support
Large open area in center for fish shelter
Variety of surface textures

Stability
Ease of Construction
Concrete poured into mold with air bladder
Fiberglass molds are easily adapted
Ease of Deployment

Floating or barge deployed

Adaption to diverse projects
Reef Ball
Pallet Ball
Bay Ball
Lo-Pro Ball
Oyster Ball
Model Ball

QUICK NATURAL MARINE RESPONSE
pH has no adjusting period
Long Lasting (500 yrs)
Material

Micro silica with calcium hydroxide
Stronger than Concrete
pH of 8.3 = Seawater pH
-STABILITY

Designed so over half of the weight is in the bottom near the sea floor
Opening in the top breaks up the lifting force of hydrofoil effect common to dome shapes
Side holes are wider near center, narrow near surface
Creates vortexes
Bring nutrients to life on reef
Anchors NOT required unless in shallow water with high energy areas
-
-SURFACE TEXTURES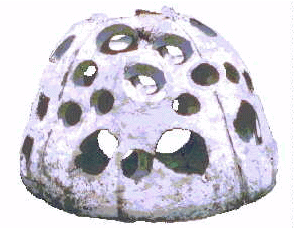 -AESTHETICS
-PODUCES MARINE LIFE
are all needed for a good artificial reef.
...Reef Balls are your answer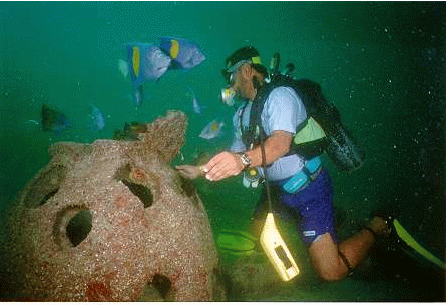 -In Sidney, BC Reef Balls have attracted marine life off of a new fishing pier.
-Reef Balls use a marine friendly concrete, meaning that its pH is closer to that of the sea than normal concrete.
Reef Balls off of West Palm Beach have flourishing reef communities due to reef balls:
Click here to view pictures of this site: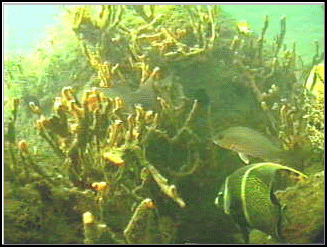 For specifics about REEF BALLS see the Internet Brochure!!!!!! -topics discussed are:

Why build reef balls? Projects Deployment Holes Surface Textures Concrete Pricing Sizes, Weights, Volumes
IV. Standard Sizes
6' x 4' Reef Balls (3000-6000 lbs)
4' x 3' Pallet Balls (1500-2200 lbs)

Heavy construction
Six packs on Barge

3' x 2' Bay Balls (375-750 lbs)
Shallow bays and estuaries

Lo-Pro or Oyster Balls can be used as caps
V. Cost of Reef balls
PER USE FEES
| | | | |
| --- | --- | --- | --- |
| | Bay | Pallet | Reef |
| 1 Month | N/A | N/A | N/A |
| 3 Months | $25 | $45 | $65 |
| 6 Months | $20 | $35 | $50 |
| 1 Year | $15 | $25 | $40 |
| 3 Years | $10 | $20 | $30 |
| Purchase | N/A | N/A | N/A |

VI. What's New ??
Improved Mold New Mixture Approved
Added Concrete pad and anchors

Protect Baby Mangroves Coral Reef Restoration
---
This web page has been created by:
-Ed Adams, USNA
-Jared Goodwin, USNA