Welcome to the first issue of The Living Legacy, Eternal Reefs online newsletter. In each issue, you will find helpful information about environmentally friendly memorial options, family resources, upcoming dedications and a special and inspiring story from one of our families.



---

Cremation or Burial? Families Don't Always Agree
Courtesy of Beyond Indigo Grief Support
Has anyone experienced this situation? You want to be cremated but your mate wants you to be buried?
Read More

End of Life Planning
When someone suddenly is unable to communicate or passes away, it leaves the surviving family members to deal with their wishes. Even if you haven't gotten around to writing down your desires, tell your family what you would like to have done on your behalf. Tell your friends, tell your doctor, your lawyer, your minister or rabbi. Tell everyone who is important to you and then ask their own wishes. In the best of families, under the best of conditions, there may be differing opinions as to what someone may have wanted done, and this is not the time for family disagreements. It is important to tell your family what you want.
Learn More

Military Honors
For eligible service men and woman, Eternal Reefs, Inc., will arrange for their honors to be presented the day of the viewing. Military honors can only be presented to each service person one time and to determine eligibility, Eternal Reefs must receive a legible copy of the deceased's DD-214 discharge papers at the time the Memorial Reef is cast. This will give us the opportunity to work with the Veterans Administration to arrange the honors.
Learn More


---
"Dare's Reef" Becomes First Sea Turtle Memorial Reef in United States
Learn More


Eternal Reefs featured on hit HBO television series, "Six Feet Under"
Learn More


Eternal Reefs Selected as one of Metropolitan Home Magazine's Design 100. The Design 100 list included," Great design in all senses of the word, from the breathtakingly beautiful and the astonishingly well made to the innovative, heartfelt and inspiring"
Learn More


---

Eternal Reefs is proud to announce the following reef dedications:
Charleston, South Carolina - September 26th
Pensacola, Florida - October 10th
Sarasota, Florida - October 13th
Tampa Bay, Florida - October 17th
South Padre Island, Texas - November 7th
Click here for a complete schedule of reef locations.



---

with Carol and King Fox, parents of Jamie Fox

Tell us about Jamie, his personality and his passions.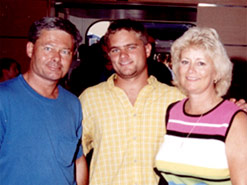 Carol, King and Jaime Fox aboard the Disney Magic Cruise Ship, August 2002, a month before Jaime passed



Jamie was born on July 22, 1981. The day after he was born, he was rushed to the Johns Hopkins Neonatal ICU because the doctors thought he had a congenital heart defect. He was baptized immediately because they did not think he was going to live, hence, being named "King Sherman Fox, III." Thankfully, he did not have a heart defect just a severe infection and he came home to us 2 weeks later, happy and healthy. Since we already had two men in the family named King, we nicknamed him "Jamie," after my dad, James C. Kinser, Sr.

Jamie was always a quiet, shy boy and young man. He loved animals and was interested in nature and the environment ever since he attended grade school. When he was in 4th, 5th & 6th grade, he was selected to participate in the Johns Hopkins Center for Talented Youth's Environmental classes that were held during the summer. So instead of spending his summer playing, Jamie attended environmental classes studying the environment and the Chesapeake Bay. He was always in awe of nature and how everything in the world relies on each other for survival. This is probably what sparked his interest in deciding to study Environmental Marine Science in college.

Jamie started high school at St. John's Literary Institution at Prospect Hall in Frederick and then attended Linganore High School his senior year. He was to start his senior year at Salisbury University when he died. He was an excellent student throughout his school years and made the honor roll frequently. In fact, he made the Dean's List at Salisbury during his last semester.

During his freshman year in high school, Jamie and I (Mom) traveled to Mexico with the school for 2 weeks. We traveled all over Mexico via a school bus, stopping at various villages and cities. We had a great time, however, Jamie was very upset at the plight of many of the Mexican people and the poverty that they had to endure. His heart always went out to people who were less fortunate. He was always a very compassionate person.

During high school, Jamie played lacrosse, football, baseball, and basketball. He was named MVP in lacrosse and many referees at his games would comment about what a great face-off man he was. Jamie was always very humble, however, and never thought he was as good as he actually was. He loved sports and played his entire four years of high school. He even had received a partial scholarship for lacrosse at Centinary College in Hackensack, NJ, but decided to attend Salisbury University since it was close to the beach!

When Jamie entered Salisbury, he thought he wanted to major in Environmental Marine Science. Soon after starting the chemistry course, however, he decided it was not for him! He then started searching for something that really sparked his interest and he found that spark in Philosophy.

Jamie was always an excellent writer and very deep thinker, so Philosophy suited him perfectly. He would spend endless hours each week writing papers on different subjects that neither of us quite understood! He was always so proud of his papers and would read them to us enthusiastically and with such passion that we knew he had very strong convictions and beliefs about nature, earth, life, God and how the universe and everything in it is connected.

Jamie was in a serious car accident in November of 2000 and suffered some serious injuries, one of which included having his four right fingers amputated. After recovering from his injuries, Jamie returned to Salisbury and decided to live at our small beach house in Fenwick Island. While the accident was terrible to live through, it made us realize how precious and fragile life is... any one of us can be gone in an instant and we should never take one moment for granted. Realizing this fact, we decided to spend as much time together as possible. So, for the next two years, we spent every weekend visiting Jamie. Granted, he worked most weekends so we didn't see him all the time, but just being able to spend some time with him was all that was important.

During the two years between his accident and his death, almost every weekend the three of us, along with some other family members, would end up having long, in-depth conversations with Jamie about life, the universe, God, etc. We were in awe of his knowledge and often wondered how he seemed so knowledgeable about so many things that most people don't understand. We, along with many others, learned a great deal from his words and his words have made us see a little clearer, what life on earth is all about. In fact, we used to tell him that it was if he was the parent and we were the children because we learned more from him than he learned from us! He definitely made us better people. We miss him and love him ... forever .. and . wait until we see him again.

Are there any organizations or charities that Jaime would want us to know about? If so, what are they?
Yes, definitely. As we said, Jamie loved animals, nature, and especially the ocean. He was working at the Worcester County Humane Society when he passed and had worked there for two years. Luckily, the Ocean City shelter is a "no-kill" shelter, meaning that all of the animals who find their way there are never euthanized. They stay there until they are adopted or if not adopted, they live their life at the shelter receiving unconditional love from all of the wonderful people who work there. Jamie loved working with the dogs especially, and the other employees said that Jamie would give each of them a hug and kiss when he arrived each day for work. After Jamie passed, we knew that he would rather have friends and family donate to the shelter versus sending flowers, so the Worcester County Humane Society was one of the charities that many family and friends donated to in Jamie's memory. It was Jamie's hope that eventually the shelter would raise enough money to build a bigger, more comfortable place for the poor homeless animals that call the shelter home. In fact, we are now raising our "grandchildren", Timber and Bugs. These are two wonderful dogs that Jamie had adopted himself from the shelter and lived with him at our beach house.

Another charity is The Surfrider Foundation. While the name doesn't sound much like a charity, the Surfrider Foundation is a non-profit, environmental organization dedicated to the protection and enjoyment of the world's oceans, waves and beaches for all people, through conservation, activism, research and education. It recognizes the planet's coasts are necessary and irreplaceable and is committed to preserving natural living and non-living diversity and ecological integrity of the coastal environment. Jamie really loved the ocean and would become quite upset at how people visiting Ocean City or any beach that we would visit, seemed to have such little respect for the ocean and the beach. He could not comprehend how people could just throw their trash in the sand, oblivious to the fact that once the tide came in, the trash would be taken out into the ocean, polluting such a valuable treasure. In fact, he would take plastic bags whenever he visited the beach or went jet skiing and would pick up whatever trash he could find and throw it away. He just felt like he had to do what he could to protect something so beautiful.

Last but not least, I would have to say The Ocean City Reef Foundation and The Reef Ball Foundation. While Jamie did not really know much about either of these charities, without them and Eternal Reefs, we would never have been able to fulfill Jamie's dream of giving back to the ocean. Both charities are doing a tremendous amount of work to develop and support artificial reefs not only off of the Maryland coast, but The Reef Ball Foundation has completed projects all over the world, working to restore destroyed and dying reef systems.

Why did you decide to memorialize Jaime in an Eternal Reef?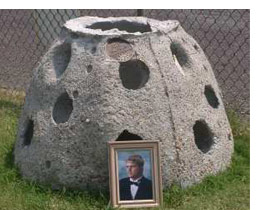 Well, as we said, Jamie absolutely loved the ocean. In 1999, after a close cousin passed away, the three of us were having a conversation about what we wanted done after our deaths. Jamie made the comment that he wanted to buried at sea. We told him that this was only possible for someone in the military, such as the Navy. He then said that we could find a way because he did not want to be buried and take up precious land.

So, when he died on 9/3/02 as the result of drowning, we knew that the closest thing to being buried at sea was to have him cremated and sprinkle his ashes over the ocean off the coast of Ocean City. We decided that we wanted to keep some of his ashes went onto the internet and did a search for "cremation urns." The first website on the list was Eternal Reefs. We looked at the name and thought that it didn't sound like a cremation urn company but decided to take a look at the website.

As soon as we started reading about Eternal Reefs and what they do, we immediately knew that "this was Jamie". Since he always talked of giving back to nature and the ocean, we have no doubt that he led us to this site. Also, Jamie had gone diving several months before his death off of Ocean City, and had commented how sad it was. He said there was not a lot of ocean life and what reefs he did see, they were not in very good shape. We thought what better way to fulfill Jamie's dream and also help the reefs and ocean off of the Maryland coast. We contacted Eternal Reefs and spoke with Don. He was very helpful and compassionate but said that they had not done any placements off of the Maryland Coast, so approval from the Town of Ocean City and also the Ocean City Reef Foundation would have to be obtained before placing Jamie's reef.

It took us 1 1/2 years for the approval process to be completed, but it was well worth the wait. We knew we had to do this for Jamie and also, it was so much more permanent a memorial than just scattering his ashes in the ocean. With an Eternal Reef, we actually had a place where we could visit by boat and either just visit for a while and say a prayer, or actually dive and see what wonderful sea life were calling Jamie's reef "home." What better tribute to a loved one than an actual living memorial. It is also gratifying to know that the work involved in the approval process paved the way for other families in the surrounding areas to also be able to choose this wonderful alternative to the traditional burial.

What advice can you give other families dealing with a loss?
While losing a loved one is always terrible, losing a child is the worst pain a parent can experience in their life. You truly feel like your heart has a huge hole that will never heal. It was especially difficult for us because Jamie was our only child. The thing that we think helped us the most was attending Compassionate Friends meetings. It is a wonderful organization for parents, who have lost a child(ren). In addition, grandparents and siblings are also welcome to attend the meetings. While it took us two years to be able to attend our first meeting, it has helped us tremendously just knowing that other parents are experiencing and feeling the same pain and emotions as you and we are not alone.

We suggest any family who has lost someone, whether a parent, sibling, child, etc., and they are having a hard time dealing with their grief, to find some type of support system, whether it be other family members or one of the many organizations who deal with losing a loved one. Granted, each person deals with grief differently and some may not be able to attend a meeting for months or, like us, even years.

The first couple of meetings are extremely hard, but at least try to attend 3 meetings before deciding whether it is something you can continue with. Eventually, you will find comfort in talking with other people who are dealing with the same grief as you and together, you can comfort each other. Also, right after losing a loved one, it may help some people to read books, etc. on loss and grief. I know Eternal Reefs has a wonderful grief library and I used it several times after Jamie's death.

Tell us about your experience memorializing Jamie in an Eternal Reef.
Our experience was emotional but also wonderful. Being able to fulfill Jamie's dream of giving back to the ocean was absolutely wonderful. We truly did not think that this would be possible and were so elated when we found Eternal Reef's website.

After receiving the approval to place Jamie's Eternal Reef off of Ocean City, MD, we traveled to Norfolk, VA for the reef casting. It was an emotional day, not only because you are there with other families who have lost a loved one, but many of us there were viewing the cremation remains for the first time, which is an emotional experience. Everyone associated with the casting, i.e., Don from Eternal Reefs, the employees from The Reef Ball Foundation and the concrete company were extremely compassionate and professional. They went out of their way to ensure that the casting process was done in a respectful manner, which was very much appreciated. While it was emotional, it was wonderful to see Jamie's reef in the mold and completed. It was especially meaningful that the loved ones are able to put their hand prints in the casting, after it was poured...a final touch to your loved one.

After Jamie's reef had cured, it was brought from Norfolk to Ocean City, MD. The day before the placement, we invited our family and friends to visit the reef and decorate it. Don provided everyone with chalk to write messages to Jamie and decorate his reef and also had supplies so we could do rubbings of his memorial plaque, which was embedded in his reef. This was also a very emotional time but it brought back many good memories as family and friends wrote messages, funny sayings or remembered something special about Jamie.

The next day, family and friends boarded a charter boat and proceeded out to the reef placement site. It was an absolutely beautiful day. Since we were able to do a private placement, we played a CD that we had made which contained songs that reminded us of Jamie and his thoughts on life, and also songs that expressed our feelings about him. Everyone present commented that it was THE most beautiful ceremony they had ever attended. After placing the model reef that we had decorated with flowers, we all watched as The Ocean City Reef Foundation lowered Jamie's Eternal Reef to its final resting place. The boat's horn sounded 3 times and Don read John F. Kennedy's speech, "The Sea," which brought tears to everyone's eyes. After Jamie's reef was lowered, everyone tossed flowers into the ocean in honor and remembrance of Jamie. Everyone then toasted Jamie's life with champagne. The ride back to the dock was quiet with everyone reflecting on Jamie's life and listening to the music.

It was a truly amazing experience and we are so grateful to Eternal Reefs and The Ocean City Reef Foundation for helping us make Jamie's dream come true. We also hope that other families will consider a memorial reef. As far as we are concerned, it is THE best alternative to a conventional burial. Not only are you creating a living memorial to your loved one, you are giving something back to nature and the ocean that will last for hundreds of years. No other burial alternative can say this. It truly was an amazing experience and we look forward to diving in the next month or so and seeing for ourselves what sea life calls Jamie's Eternal Reef "home".

Jamie Fox
July 22, 1981 - September 3, 2002
Visit Jamie's site



---

Eternal Reefs, Inc is an Atlanta-based company that provides creative environmentally enhancing means to memorialize the cremated remains of a loved one. The company incorporates cremated remains into a concrete mixture used to cast artificial reef formations. The artificial reefs are dedicated as permanent memorials while also bolstering natural coastal reef formations. For more information about Eternal Reefs visit http://www.eternalreefs.com/.




---

Unsubscribe
We don't want to clutter up your inbox, so let us know if you are receiving duplicate copies, wish to be removed or need to update your address so you don't miss a single issue. To be removed from this list, please send an e-mail with UNSUBSCRIBE to mailto:Amanda@leesburgpr.com?subject=UNSUBSCRIBE me from The Living Legacy.


In this Issue
---
Did you Know?
The largest "green memorial" in the United States is located in Sarasota, Florida where over 100 Eternal Reefs Memorial Reefs are dedicated
Don Brawley, founder of Eternal Reefs, was instrumental in designing the "Reef Ball" artificial reef system, used world wide to replenish dwindling natural reef barriers
Eternal Reefs provides a memorial reef program for house pets called, "
Pearls are for Pets
" named after Don Brawley's dog Pearl
---
http://www.reefball.org/