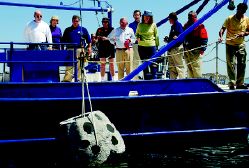 SCOTT NEVILLE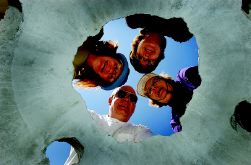 SCOTT NEVILLE

NASSAWADOX -- It was a pretty afternoon, sunny and not too warm. For Grayson Rogers, much worse constituted fishing weather. He was avid like that.
Rogers, who died in September at the age of 76, loved fishing and loved ways to improve it. Formerly the owner of Rogers' Brothers grocery store in Cheriton, he later served on a state committee that helped build fishing reefs, boat ramps and piers.
Rogers decided before he died that he wanted some of his cremated remains placed in a reef ball -- a cement structure placed in the water to improve the fishery.
"He pushed for these reef sites," said Jennie Rogers Moore, one of his four children. "How appropriate to put him in one."
Plenty of people make a difference during their lives. Maybe it takes a rare person, like Rogers, to continue making a difference posthumously.
On Monday -- one of the prettiest days of the year -- a dozen boats filled with Rogers' family, friends and local officials, including Del. Robert S. Bloxom and Northampton Supervisor Jack White, boated to an area three miles from Nassawadox Creek to deposit Rogers' ball at a reef site.
After it was lowered, attendees placed roses in the water.
"It couldn't have been more perfect," said Rogers, who attended the service with her mother, Virginia Rogers, sister Lynne of Franktown and brother Johnny, who lives in Chesterfield.
"It got me choked up a little bit."
After Rogers died, Moore called Eternal Reef, a Georgia company that places the ashes of avid anglers in the concrete structures. They coordinated with Sea Search of Virginia, an authorized reef ball contractor.
Last year, they placed some of his ashes in the ball, which then had to harden. It'll last 500 years and is embossed with a plaque bearing Rogers' name.
Rogers' is the first eternal reef ball placed in Virginia waters.
He also requested that some of his remains be sprinkled over "The Cell," a prime bayside fishing spot. There will also be some placed in two special seaside spots. Still more is to be taken to a special fishing destination in Alaska.
An angler herself, Moore said she'd soon be fishing the Chesapeake Bay spot where her father's reef ball sits. "He might give me a sign and let me catch a nice, big citation," she said. "Wouldn't that be nice?"
For Moore, who is the Cape Charles town clerk and lives with her husband, Matthew, near Marionville, the day was doubly special because it was her birthday.
She first introduced the idea of a reef ball to her father. Seeing his wishes honored was a nice gift.
"This was the best birthday present I could have asked for," she said.
Originally published Wednesday, April 30, 2003