The Marine Aquarium Hobby Helps Build Coral Reefs
John Walch, Sunday, December 6, 2004
---
Speaker's Biography
John C. Walch has been involved in the aquarium trade since 1986. He was the co-founder of C-Quest Marine Fish Hatchery in Puerto Rico. The author is currently the Owner of Ocean Worlds Consulting, which helped develop the coral propagation methods and technology used in the Reef Ball Foundation projects. Previous articles by the author have been published in issues of SeaScope, FAMA and other trade publications. The author has also spoken at MACNA's and other Marine Conferences. John Walch serves on the Board of Directors of the Reef Ball Foundation and as the co-team leader of the Reef Ball Foundation Coral Team. I can be reached at Johnwalc@AOL.com

---
Presentation
I first experienced the adrenalin rush of fragmenting a coral in 1994. This asexual method of coral propagation has since become commonplace technology to "hands on aquarist". Cultured corals have also become common objects in most reef aquaria. This is an accomplishment the marine aquarium hobby should be very proud of!
The Bleached coral skeletons that used to serve as décor in most aquaria have been replaced with living corals. If the hobbyist aquaria is setup properly and well maintained many coral species remain healthy and some on the rare occasion have even spawned. The newly acquired capacity to replicate the needs of the corals to keep them healthy has granted the hobbyist the ability to observe corals on a 24-7 bases. Allowing us to gain and share a lot of anecdotal and in some cases scientific knowledge.
When I felt I had a good understanding of the technology and had experimented with many different asexual propagation methodology used with diverse coral species and I began to share this information with the local collectors in the Solomon Islands and other Pacific Islands. It was during one of these trips on the Island of American Samoa where the union of two technologies was consummated, coral propagation and artificial reef building.
Thanks to the efforts of an avid coral reef conservationist, (and I believe a past speaker to this group) Mr. Michael King and the Coalition of Reef Lovers (CORL), I had the pleasure of meeting Mr. Todd Barber, the founder and CEO of The Reef Ball Foundation. The Reef Ball Foundation is a 501(c) 3 publicly supported non-profit international environmental NGO that had developed a very unique and scientifically designed artificial reef structures.
As Todd described how this hollow, marine friendly, cement Reef Ball module provided habitat for juvenile fish and how the pH balanced rough exterior surface is favorable for coral larvae to settle on, and how over time the Reef Ball modules become encrusted with corals, algae, sponges, and most other reef life to the audience. I was thinking these modules were the ideal candidates for coral propagation.
The key words in Todd's presentation were "over time" and after my presentation on asexual propagation it did not take us long to see how we could greatly increase the natural reef building process by combining the asexual coral transplanting techniques, I learned as a marine aquarist. Slight modifications were made to the Reef Ball mold to accommodate a coral "plug" for easy coral transplants.
While each species of coral requires slightly different propagation techniques for optimal success, the end results are the same, ready to transplant coral plugs. The coral plugs fit quickly and without much effort into the multiple coral plug receptacles now cast into each Reef Ball module.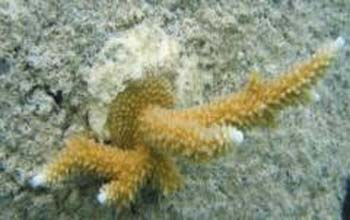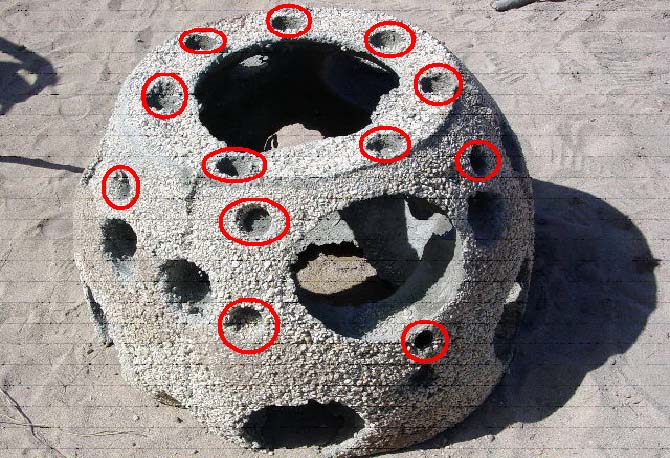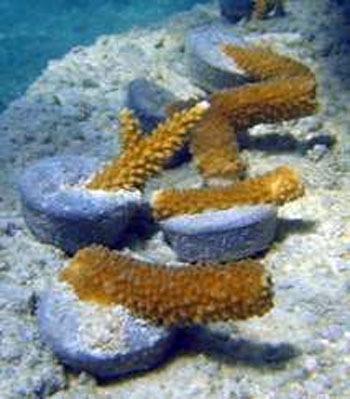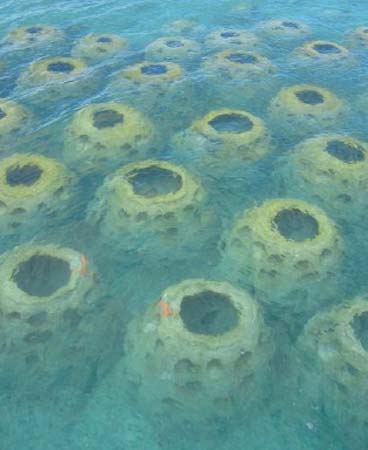 Over the next years and after several projects the Coral Plug technology evolved along with our propagation methods. We continue to learn and improve by revisiting the sites after we make our coral transplants.
One example of continued education is when I first propagated coral fragments on cement discs in the Solomon Islands (because of the lack of flat stones in the area) I used to place the corals in the cement upright like planting a tree. This approach maybe aesthetically pleasing to the aquarist and fit nicely in his/her aquarium, however, what we learned was it did not work as well in the sea.
The fast growing Caribbean Acropora cervicornis (Staghorn) grows so fast that the small diameter base could not support the weight of the outward and upward growth and the first storm surge waves broke them off. We needed more surface contact with the plug for the coral to build a stronger base before it branched out.
Laying the coral fragment flat did not allow for enough of it to be submersed into the cement so a 45 degree angle we learned was the best compromise. Also, placement of the coral plugs on the Reef Ball is equally important so the outward growth would allow the coral to make its own additional anchor points.
The first large scale coral transplant/Reef Ball project took place in 2001 on the Caribbean Island of Curacao. Approximately 200 Reef Ball modules were deployed in small groupings to replicate the shallow waters coral formations that were destroyed by Hurricane Lenny. Only imperiled corals that were recovered from the Hurricane damage were fragmented into pieces no larger than a 2-inch segment.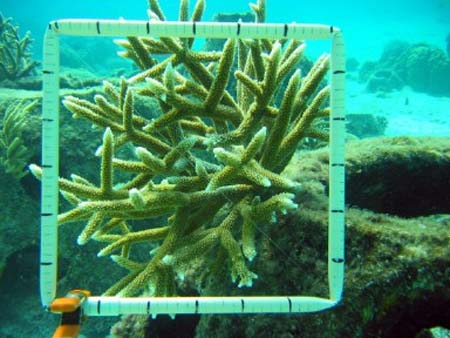 This impressive Staghorn (Acropora cervicornis) colony started as a 2 inch coral fragment two years ago. The fragment was molded into a "coral plug" and transplanted on one of the Reef Balls that form the artificial reef/snorkel trail at PortoMari beach on the Curacao Island.
The largest coral transplanted artificial reef to date came about when the developer of Maiden Island, Antigua, applied for a permit to install an armor stone breakwater. The Antigua Department of Fisheries had concerns that this conventional method would critically impact the threatened Caribbean conch (Strombus gigas) seagrass bed habitat. An alternative Reef Ball artificial reef structure with adaptations designed to preserve conch habitat was suggested and approved.
The original fringing reef on the windward side of Maiden Island was damaged when Hurricane Luis collided with Antigua eight years ago. Using advanced surveying techniques 1,200 Reef Ball modules were deployed from a barge to help restore the reef as well as form a breakwater to protect the exposed sandy beach from erosion.
The Reef Ball modules were placed with space between them to create corridors for the seabed inhabitants. Eight different sizes and over 100 different design styles of Reef Ball modules were incorporated into this project to more closely mimic a natural reef.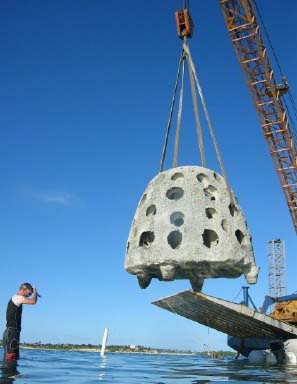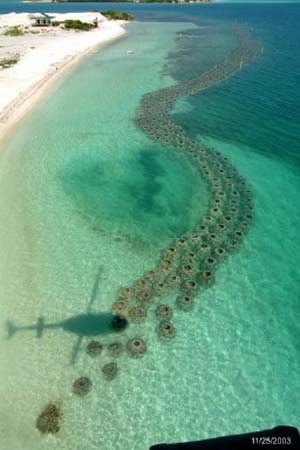 Thirty different species of imperiled hard and soft corals including 3,000 free living rose corals, and literally tons of Brain corals, Gorgonian soft corals, Elk Horn coral, etc. were rescued from dredge operations surrounding Maiden Island.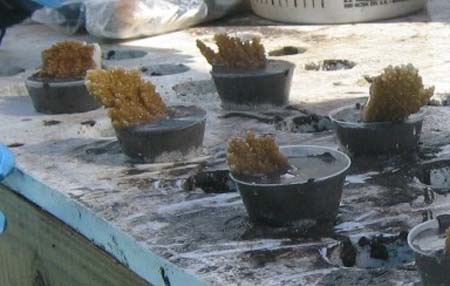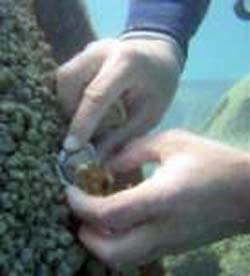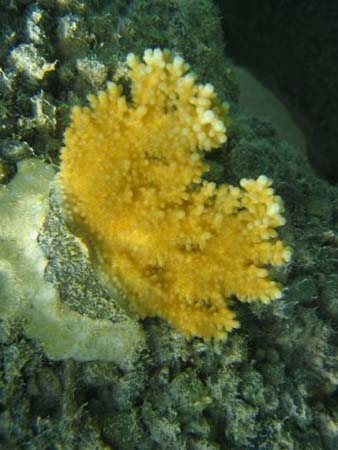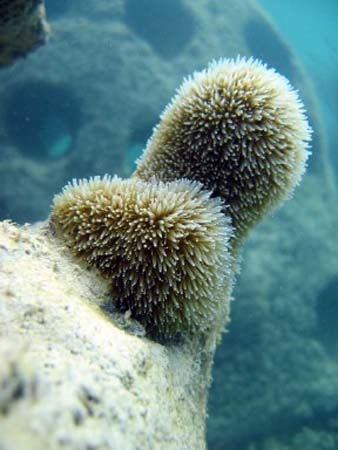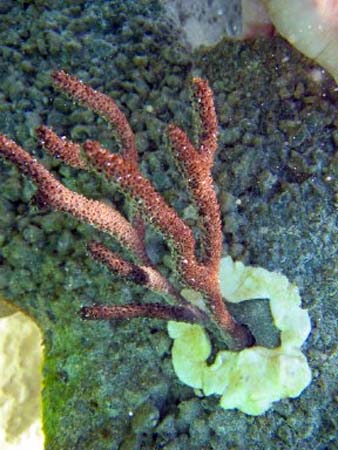 Verification of effectiveness of this applied technology is seen in this project, wherein over 5,000 coral colonies were propagated and transplanted in only fourteen days by the mostly volunteer Reef Ball Foundation workforce of 15 people. The Reef Ball Foundation uses volunteers to perform projects that meet their mission statement's goals of helping to restore our World's aquatic ecosystems.
In addition to the thousands of coral plugs, post-hurricane stabilization included 4.5 tons of unstable live rocks that were relocated and secured to the Reef Ball modules so that they would not damage the coral reef in the event of a future hurricane visit.
The Reef Ball modules were also aquascaped and planted with coral species that do not lend themselves well to fragmentation (i.e. Diploria sp., Colpophyllia sp. and Meandrina sp.) commonly referred to as brain corals along with Mustard Hill (Porites asteroids, etc.), anemones, desired macro algal, and sponges just to state a few.
The transplanting of imperiled and rescued corals along with live rock and other invertebrates greatly accelerate the formation and biodiversity of the Reef Ball restoration coral reef, improving the water quality and marine life habitat (especially for juvenile fish).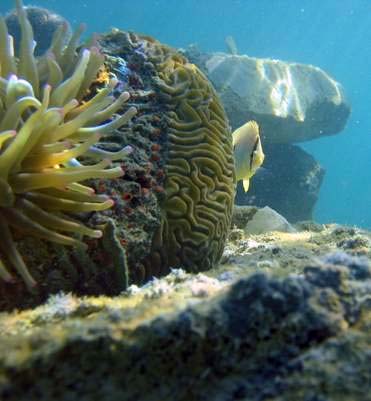 Biodiversity of transplanted species enhanced habitat.

In comparison to the environmental assessment that was prepared by an independent third party prior to the start of the project, the new coral reef breakwater has had a very positive influence on the marine life in the area.
Originally there were 11 fish species observed during the preparation period of the assessment. The volunteer workforce documented an impressive increased 76 fish species, 71 invertebrate spp along with turtles and dolphins encouraged by the new habitat.
It was not that many years ago that the concept of keeping a live coral in an aquarium was considered impossible. Now skills I learned as a marine aquarist are adding a new dimension to coral reef restoration. Large-scale coral propagation and transplanting restoration projects can be done economically and safely.
The volunteers who work on Reef Ball projects are selected based on the level of experience need required for the project and their availability to travel at that time. If any one is interested in working on a Reef Ball project The Reef Ball foundation will be offering a certification coarse online through #reef.
Or in the past we have also certified volunteers on location during a project but the number of non-certified people on location are usually limited.
For more information on other Reef Ball projects visit the Reef Ball Foundation's website at http://www.reefs.org/library/talklog/www.artificialreefs.org
---
Questions and Answers
Q: Are volunteers from the local populace, or are they from the Reef Ball organization?
A: None from Antigua to start but, we trained several locals for new projects.

Q: Do the corals transplanted onto the Reef Balls grow as quickly as native corals?
A: It seems to be quicker since we usually move them up in the water column a little, and give them a clean start with no neighbors.

Q: Is the survival rate of transplanted corals high?
A: We normally have over 90%, but it really depends on how they are handled. We use rubber gloves and work with only one species at a time - this really helped.

Q: It appears that you drop the coral fragments directly into the wet cement. Do you see any tissue destruction or reduction in growth from that?
A: That is correct - we put the frag into the cement. The coral table we work on is shaded from the sun and we have them back in the water in an average of 30 seconds... very little problems.

Q: In projects where an increased diversity was observed after Reef Balls were added, were they the same species that were present before habitat degradation?
A: According to the environmental assessment done before we started, we gained a lot of diversity by providing habitat. In Antigua there was only a small fringing reef before, so all of the balls added a lot of habitat.

Q: And as a follow up to that last question have fish stock also returned or is more research needed in that area?
A: Fish are added in volume, and not just moved from one reef to another, as juveniles actually settle out on the ball
s. Also, eggs were laid within three days after the balls were added.
Q: What areas where Reef Balls have been installed have had the best response?
A: I think it would be real interesting to set up a artificial reef using Reef Balls and then harvest from it for the aquarium trade without affecting the natural reef.

Q: Do you have any active projects using transplanted corals in US waters? Caribbean?
A: I think there are a few small projects in FL but I was not part of them. Permits in the US are a big problem if you want to do good. We do have some in Puerto Rico, and some more upcoming ones there as well.

Q: Where has your largest job been and who for?
A: The largest has been Antigua for Allen Stanford, but we have one 3 times larger for the US Army coming up.

Q: How many new projects do you have coming up?
A: Approximately 6 but that changes...Guam, Nevis, Thailand, Malaysia, Bahamas, etc. Reef Balls are in 30 countries now and we have done coral transplants in about 15.

Q: Regarding the Army project if you can disclose - where is it?
A: Guam. It is in the design stages now and we should do our first site visit in early 2005.

Q: How many Reef Ball designs did it take before you came up with the final one in use today?
A: They change with each project and the goal of the project. The Antigua project was designed to prevent beach erosion, and the corals were something we insisted on or we would not do the breakwater part.

Q: What is the cost typically of a Reef Ball to get it into the water?
A: In Thailand the dive shop at Racha Island allows divers to adopt a Reef Ball for $59 US. It depends on the size of the ball but for materials it ranges from roughly $40 to $100.

Q: What substance / material is used to make the balls?
A: We use fast drying cement, add miro silica to balance the pH, a wetting agent to make the cement pour easily without loosing strength.

Q: Are there any images of Reef Ball derived reefs that have grown in for a few years available?
A: Yes, on the website http://www.artificialreefs.org you can find every project and lots of pics.



Before we announce the winner of the door prize, I would like to let you all know about a probable course, run via MACO, that will be run by John and Todd from Reef Ball. They will be hosting a course, in which they go over the basics of reef restoration, transplantation, and even provide certification for the course! Check the website (maco.reefs.org) early in the new year for more details!


The winner of the door prize is........................ (drumroll please)
rivers!


Well, that is it for the questions and the formal part of the meeting. Thank you very much for taking the time out to talk to us tonight. It is very much appreciated. :) John may hang around now that the chat is done if anyone else has any questions for him.... Thank you for a very informative talk, John!
I was happy and honored to be a part
[18:45:36] i have a question ... did you all think the growth from 2 inches to the large coral you saw in the pic in just two yrs. good or just average?
[18:46:51] acropora grows really fast ...in antigua we saw faster growth in comparison
[18:47:19] probably average I would say JCW
[18:47:33] I have had a 4" frag turn into a basketball with an acro in about 2 years
[18:47:42] JCW: I came in late, so sorry if this is a repeat......Do you have a project on Disney's Island in the Bahamas?
[18:48:17] walerboh not that i know of but check the world map on our site JCW
[18:50:21] Found it, and yes that's it!
[18:50:35] pretty cool....I've snorkeled there
[18:51:15] walkerBoh how did you find the water quality ...and what time of yr were u there? jcw
[18:52:23] water qualtity was pretty good. We were there shortly after a storm so the water was turbid and COLD
[18:52:54] it was january about 3 years ago
[18:53:12] jan water temp should be 78 and summer 83
[18:53:57] the storm had blown in the cold water......I'm not sure of the exact temp
[18:54:06] I would guess lower 70's [18:51:22] How'd the stuff do in all the hurricanes this summer?
[18:52:06] Bill2 we had no damage to RBs any were in the CAribbean this yr and they took lots of direct hits
[18:53:17] cool thanxs
[18:54:47] ok everyone thanks for asking me to be a speaker and if anyone has any last min questions feel free to email me
[18:54:58] HEY jOHN
[18:55:07] heh, a little late Mike
[18:55:09] and NOW mike shows up ;)
[18:55:09] hi mike?
[18:55:10] john: mike_working is Mike King
[18:55:20] wow mike how r u?
[18:55:25] sorry I missed your talk
[18:55:44] was diving :)
[18:55:46] well i mentioned your name so if you get a chance read it
[18:55:49] good and U?
[18:55:57] we will post the talk on the website
[18:56:01] i'm doing great
[18:56:05] with all text, image links, and Q&A
[18:56:38] do you have any RB in the water and are you culturing any corals or clams for sale yet mike?
[18:56:53] we all keep asking mike if he has anything to send in yet
[18:57:01] things are going well here Community based reef rehab and restoration is starting to take off
[18:57:46] you diving every day now mike?
[18:58:02] only using reef balls for art-mother reefs
[18:58:27] u set up a farm there yet?
[18:58:37] have developed several other ways to attach plugs to reef substrate
[18:58:45] 3 farms
[18:58:51] what new ways mike?
[18:59:10] wow ... what works the best?
[18:59:11] playing with some underwater glues :)
[18:59:37] just wire brush surface squirt and attach :)
[18:59:47] anyone ever take your UV activated glues seriously liquid?
[18:59:58] i know coral list had a discussion a bit ago on it
[18:59:59] all I have is a bunch of numbers
[19:00:11] there seems to be a lot of methods but we always come back to the cement plug for high surival in the long run and quickness in a restoration project?
[19:00:13] no but it wouldn't be too hard to formulate a visible light curable glue
[19:00:29] tough to use on a beach with all that sunlight
[19:00:38] hehe getting 95% +
[19:01:13] good job mike
[19:01:14] keep it inside an opaque squeeze container and just squirt it out
[19:01:18] working on selective propagation of temp resiliant staghorn ATM
[19:02:04] that would be good to have in the bank with global warming
[19:02:27] yupp is why were doing the study
[19:02:47] waht color is it?
[19:02:48] what
[19:03:00] bleaching just hit hard here so far the clones are not loosing the zooanth.
[19:03:21] temps hitting 90 deg F
[19:03:22] green i beat ?
[19:03:32] wow no wet suit
[19:03:52] no just brown with blue tips A. formosa
[19:04:04] also prop A. nobilis
[19:04:13] and some A. grandis
[19:04:22] A.grandis is green
[19:04:22] * wade points at JCW
[19:04:42] they would be good in aquariums as well if they can tolorate temp changes
[19:05:02] I think it would be awesome to have a reefball for each species of a farmed coral
[19:05:13] I found a zoanthid that can take 100deg
[19:05:16] use them as mother colonies for frags, a species to a rb
[19:05:40] was living in a wave splash pool on a lava field
[19:05:45] wow Mike thats great...wade i agee it would be nice to setup a RB coral bank
[19:06:08] someone drop $200k in my lap, I'll go to fiji and work for a couple years and get that started ;)
[19:06:18] hehe
[19:06:26] hehe...me too
[19:06:43] wade looks like were getting the NOAA / Westpac grant :)
[19:07:09] but i think if you setup a coral farm it would be financial selfsupporting in less than two years
[19:07:38] ANA grant also looks good :)
[19:07:52] yeah, if you can set up the chain of sales and drive demand
[19:08:03] demand is already there
[19:08:04] wow mike good job ...how many grants have you gotten so far?
[19:08:09] it's the price point
[19:08:14] 2\
[19:08:20] which seems to be about $50-$80
[19:08:35] species driven too
[19:08:38] yeah
[19:09:02] mostly small but were doing work for Sea Grant now
[19:09:06] culutred corals from the ocean can sell for $20 each and i agree it is sp driven not price
[19:09:48] we will be shipping out soon now FOB 4.50ea
[19:09:50] * Bill2 wonders where he can buy $20 cultured corals
[19:09:52] you have to keep rearing species that are lower in
market#, and rotate them regularly
[19:09:53] Mike did you ever get the money the mgr from the tuna plant offered us ?
[19:10:01] nope
[19:10:48] bill2 i said they can and shoudl sell for $20 not that to do it is the shipping cost that raises the price and three or for hands later
[19:10:55] CORL here is placing 5 onto reef restoration areas for every 1 that we sell
[19:11:16] yeah but you have to take that into account.. when i say $50 i mean at the LFS which is where 99% of the world buys their corals
[19:11:58] wow cultured corals are going for 50 in LFS
[19:12:04] yup
[19:12:05] ?
[19:12:08] that's on cheap end
[19:12:08] 50-200
[19:12:13] depending on size and species
[19:12:17] bali and fiji ones sell for 50-80 here
[19:12:18] yup i agree $50 is the avg price to the end user
[19:12:21] cool :)
[19:12:32] i paid 85 bucks for a pretty baby blue stag
[19:12:34] bali stuff is on the high end
[19:12:42] all $50 at my LFS
[19:12:46] no matter species
[19:12:50] but that's my lfs
[19:12:53] and not typicl
[19:13:04] bali is the highest cultured corals at present
[19:13:12] this LFS is owned by a local person in our group and he has good prices on things too
[19:13:16] always very fair priced
[19:13:29] i have some from somewhere else than bali
[19:13:32] i have seen the same pieces sell for 150 online and his will be 50 or 60
[19:13:38] they have a plastic soda bottle in the base
[19:13:41] CORL can now ship maricultured without F&W inspection :)
[19:13:46] dont' know where they came just Indo.
[19:13:53] bottle top
[19:13:59] i got one with a soda cap base too
[19:14:26] those were the first he had gotten of those
[19:14:34] wow what happend to cement....how do u like the bottle base in your aquarium?
[19:14:35] any idea where cj
[19:14:45] it's cement over the cap
[19:14:50] nope
[19:14:54] yep and the top is smooth
[19:15:12] probably how they attach them to grow out racks
[19:15:25] i can ask him if he knows where they came from
[19:15:31] wow ....if you could buy a culutred coral on anything you wanted what would it be on?
[19:15:39] like the bali ones
[19:15:50] imo
[19:16:03] but i bet the bottle tops are easier for grower
[19:16:13] i have been getting a ton of those hairy acro crabs with blue eyes, they are eating all the polyps on my small colonies
[19:16:17] has anyone seen the ones from Pacific aquafarms on [pink rock
[19:16:30] nope
[19:16:33] yeah i like the bases on the bali frags
[19:16:52] i've seen tonga, java, bali, vanuatu
[19:17:02] those are all just lumpy, corraline cement plugs
[19:17:07] different shapes at times
[19:17:23] yes it looks like corraline cement
[19:17:43] most of them look like the base had a round plug cut off of it
[19:17:46] I like them personally
[19:17:47] should be a gallery with all of the different types
[19:17:55] help to know where it comes from
[19:18:06] * Bill2 can hear wade's wheels turning now :)
[19:18:14] CORL's will be tagged
[19:18:32] tagged would be cool
[19:18:34] alot of places have their own tags still on them... nonsense to us, but they are there
[19:18:41] and probably needed in future
[19:18:50] ys the steam or round end is how they hold it to the matterial while it grows out
[19:19:10] I have someone working on program so you can download info off web
[19:20:08] ok all....thanks again it was fun....mike write when you can
[19:20:10] bye
[19:20:15] will give info on corlfarm, species org colony etc
[19:20:16] thank you JCW!
[19:20:25] push todd about the MACO course for me ;)
[19:20:30] will email again soon
[19:20:41] mike, it can be hard to tell what some coral are
[19:20:45] someone needs to culture red and blue moni danae :)
[19:20:46] later John
[19:20:59] i will talk to todd no worries i sure he will want me to teach it anyway
[19:21:07] hehe I have Doug Fenner helping ID em :)


Thanks for the great talk, John!
---
© 2004 www.reefs.org

Reefs.org has been serving hobbyists since May 1997.
We are proud to say that Reefs.org was the first site dedicated to the reef hobby.