The newspaper Kieler Nachrichten writes on 16 June 2001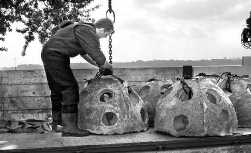 [Translated to English] Holtenau. Yesterday, the company "MariLim - Technik & Service" from Kiel has built its first artificial reef with Reef Balls at the former swimming baths in Holtenau. The project is accompanied by scientific research and wants to show that population by animals and plants takes place considerably quicker on these half-round reefs made from special concrete than by using traditional concrete contructions.
"For Europe, this is absolutely new", says Marilim manager Thomas Meyer. He stresses that already over 200,000 Reef Balls were produced worldwide and used in more than 1,500 projects. The reef hemispheres have caves and holes just like real reefs and show a pH value identical to seawater (8.3) while traditional concrete, having a pH of 12, reacts as an alkaline and thus deters potential reef inhabitants.
Meyer expects that the colonization with animals will happen immediately because of the familiar chemistry. Blue Mussels and algae should be the first inhabitants. When the expectations are fulfilled Marilim could receive projects from all over Europe. How life develops at the new reef may be investigated by intereted divers. Please contact phone 363666. (Original text: Martin Geist)
---
13 June 2001 - MariLim deploys artificial reef in the Baltic Sea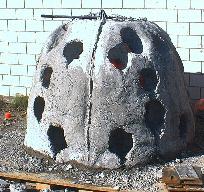 MariLim builds an artificial reef with the new Reef Ball modules in the Kiel Fjord.
[read the hole story in German]
---
11 January 2001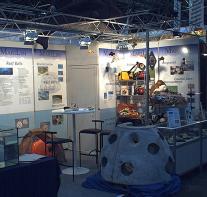 The 20 - 28 January 2001 we will attend the "boot Düsseldorf 2001" exibition with the Reef Ball technology. Visit us in hall 3, stand A 65. Here you can get information on the Reef Balls and see them in real life.
---