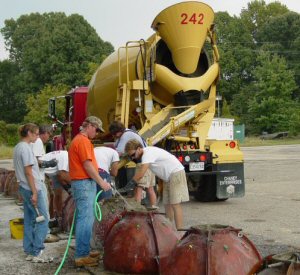 Volunteers Needed For Reef Ball Events
The Service is asking employees to volunteer for two upcoming reef ball events scheduled for October.
Participation in these events will bring MES closer in achieving its "Commitment to Service" BEST 2005 Goal!
The first event, a Chesapeake Bay Foundation reef ball pour, will take place on Oct. 1-3 at Discovery Village in Shady Side. The pour is to support establishment of an oyster reef in the South River.
Approximately 20 Reef Balls will be poured on Friday, Oct. 1. These Reef Balls will be hatched on the second while another 20 reef balls are poured. The second day's reef balls will be hatched Sunday morning, Oct. 3, and the MES reef ball mold systems will then be washed down and packed into the MES reef ball cargo trailer.
The Service is asking for 2-4 volunteers, especially on Friday and Sunday morning. Also, a qualified MES staff member is being requested by the foundation for quality assurance and quality control support.
In addition to the reef ball pour event, the agency also is asking for volunteers to staff a reef ball display during Tilghman Island Days from 10 a.m. - 4 p.m. on October 16. The display, which will be similar to a display MES provided for this same event in October 2003, will include reef balls pamphlets and a DVD from the reef ball Foundation.
Those who wish to volunteer for this event are being asked to sign up for at least an hour. Volunteers are then invited to enjoy the island's other festivities once they are finished in the booth.
If you would like to volunteer for either event, be sure to contact Tom Humbles (thumb@menv.com) or Wayne Young (wyou@menv.com) as soon as possible.
RIDE the MES WAVE.