Issue: Southeast Edition • Publication Date: 6/20/2005
More Roads, Bridges End Up Swimming With the Fishes
By Angela B. Hurni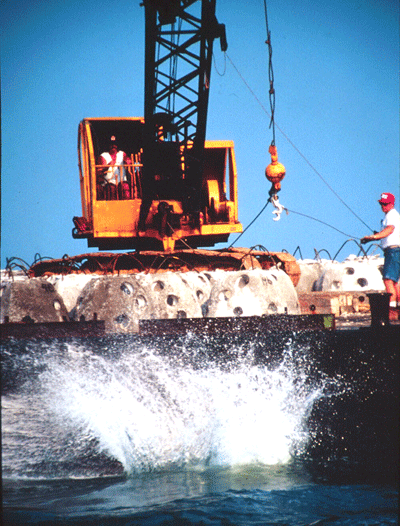 Over the past several decades, due to man's activities and natural disasters, the world's natural reef systems have been significantly reduced, which has led to a decline in the marine life population.
Since natural reefs cannot rebuild themselves fast enough, artificial reefs have become a mainstay in order to restore reef systems in the world's waterways.
Materials used for artificial reefs range anywhere from prefabricated molds, called Reef Balls, to demolished concrete structures to old military ships and jets. The artificial reef industry is growing and offers ample opportunities for construction companies to do right by the environment while saving money on the removal of debris. Additionally, the increasing popularity of Reef Balls has created a niche market for companies already providing services on the waterways.
A Reef Ball is actually a "designed artificial reef" used to restore ailing coral reefs and create new fishing and diving locales. According to the Web site, www.reefball.com, "Reef Balls are the only artificial reef that can be floated and towed behind any size boat."
State and National programs make use of Reef Balls, but they also are increasing in popularity with community organizations like the Girl Scouts. Additionally, companies such as Eternal Reefs Inc. can place cremated remains in a Reef Ball or can build a Memorial Reef with Reef Balls to remember a loved one who has passed on.
Reef Balls are designed to mimic natural reef systems and are made of a marine-friendly concrete. Todd Barber, chairman of the Reef Ball Foundation, a non-profit public charity that funds and promotes Reef Ball projects worldwide, said that a reef can be made with Reef Balls in conjunction with "materials of opportunity," which are approved materials for reefs, like old bridges. Approximately 10 to 15 percent of Reef Balls are made with end-of-day waste from concrete companies.
Even so, partnerships are growing between Reef Ball contractors and concrete companies, especially those situated on waterfront property. Barber considers the partnerships a "good thing for the ready-to-mix plants."
Everyone profits from the collaboration: Reef Ball contractors have their needs met while concrete companies are able to unload leftover concrete from their trucks at the end of the day.
One such partnership can be found in Norfolk, VA ,with Sea Search of Virginia and Capital Concrete Inc. Sea Search of Virginia, founded in 1998, is owned and operated by Fran and Josh Loney. The company's motto is "utilizing existing resources to improve the quality of Virginia's beaches and aquatic life."
In addition to making and deploying Reef Balls, the company offers side scan sonar and charter boat services.
"We've developed a relationship with Capital Concrete," said Fran Loney. "We use their facility to make the Reef Balls and the dock to barge the Reef Balls out to the [Chesapeake] Bay. They are very nice to deal with, but we are presently moving to a new site."
Capital's end-of-day waste could be used by the Loneys, but only if they have a Reef Ball contract to fulfill.
In addition to their operation at Capital Concrete, the Loneys have another facility in Norfolk, which they have outgrown. The two operations are being combined as the Loneys move the company to a larger facility with 1.5 acres, also in Norfolk. However, Fran will always consider Capital Concrete a partner because they will have access to its facility, and she said, "We can move back anytime."
The move was prompted by Josh's new invention that is used to deploy Reef Balls. The old facility was too small to build the Reef Balls in addition to the invention, the Wanger Auto-Release Hook System. Josh created the Wanger specifically to deploy the Reef Balls, but maintains that the system can deploy a variety of things.
The Wanger "would replace a pelican hook," stated Josh. A Reef Ball can be placed in the water and released without unhooking anything and without having a tether line. "It has worked quite well for us," he added. Josh uses the Wanger on a crane that is situated on a barge when deploying the Reef Balls, but he said that it can be used on a variety of equipment, including backhoes.
"We've used a pelican hook with a tether line, but that gave us problems. It released too soon and was hard to release," said Josh.
The Loneys said that they have used the Wanger "thousands of times at this point." The Wanger has a 12,000-lb. (5,400 kg) working load.
A prospective buyer of the invention, Josh said, is "anybody that picks up something and sets it down" and who does not need a person to unhook anything.
In addition to Reef Balls, artificial reefs can be made out of a variety of materials including rock, old ships, heavy-gauge steel structures and precast concrete structures. Old tires and appliances are no longer used because they tend to rust and are so light that they are tossed around by storms. Whether it is a Reef Ball or concrete debris, the materials used for a reef are determined by the reef's goal.
"Reefs have different goals," said Barber. "They can be biological, scuba diving, fishing or breeding."
The obvious benefit in using demolished concrete structures, like bridges, is the cost-effectiveness. Brent Hunt, assistant project manager of Tidewater Skanska's Pinners Point Interchange project in Portsmouth, VA, said that his company demolished the West Norfolk Bridge late last year and found that using the debris for an artificial reef was more cost effective.
"It saves on disposal fees and is useful to the environment," Hunt said.
Mike Meier, head of the Artificial Reef Program at the Virginia Marine Resources Commission based in Newport News, said the demolished West Norfolk Bridge was used to create the York Spit Reef at the mouth of the York River. What impressed him most was Tidewater Skanska's operation in removing and depositing the debris with a mammoth of a crane appropriately named "Samson."
Custom-fabricated by Tidewater Skanska several years ago, Samson is a 350-ton (315 t) shear leg derrick crane that Hunt called "massive." Samson was not used exclusively on the reef project though. Hunt said crews also used what was available at the time, including two barge-mounted cranes: a 100 ton (90 t) and a 120 ton (108 t). Roughly 10 to 12 barge loads of concrete girders and pile caps were hauled out to the York Spit Reef between October and December 2004.
Another similar project due to be completed this summer, also by Tidewater Skanska, is the demolition of the Silas N. Pearman and the John P. Grace Memorial bridges after the opening of the new bridge over the Cooper River in Charleston, SC. The old truss bridges will be demolished and barged to artificial reef sites once the Cooper River cable-stay bridge is opened this summer.
Approximately 200,000 tons (180,000 t) of concrete will be used from the bridges for the reefs; any steel from the old bridges will be recycled.
According to Bob Martore, program manager of South Carolina's Department of Natural Resources marine artificial reef program, the Cooper River bridge artificial reef project is the "single largest reef construction project based on the amount of materials in the state of South Carolina." He also stated that "a minimum of 80 percent [of the concrete] will be going to existing artificial reef sites."
Somewhere between $50 million to $60 million has been set aside for the removal and artificial reef portion of the project, which includes demolition and barging. Two Massachusetts contractors have been awarded the contract as a joint venture: demolition will be performed by Testa Corp. and barging will be carried out by Jay Cashman Inc. The two contractors have 18 months to complete their portion of the project.
Martore also touts the cost-effectiveness of using demolished concrete structures for artificial reefs.
"It is a more cost effective measure for DOT to haul it to reef sites," explained Martore.
Similar types of contracts are being worked on at 45 sites all over the state.
"[The state] is adding close to 80 acres of concrete to current reef sites," he said.
Even though it seems like the state and construction contractors are the main beneficiaries of the artificial reef projects, marine animals will benefit the most.
"By adding concrete to these sites, we will be increasing the amount of available habitat for marine animals," Martore said. "Bottom line, by creating habitat, you are increasing fish population; by providing habitat, you hope to rebuild fishery stocks."
Most coastal states have artificial reef programs. Florida and Maryland have reef programs that are not exclusively run at the state level. With 34 of 35 counties participating, Florida's artificial reef program is one of the most active among the Gulf and Atlantic coast states that have the programs. The U.S. Army Corps of Engineers has the responsibility of regulating proposed artificial reef sites in federal waters and issuing permits.
From Rhode Island to Alabama, artificial reef sites are being created from old concrete structures. Rhode Island's Department of Transportation is opening a bid this June for demolition and removal of the Old Jamestown Bridge, which spans the Narragansett Bay, and is being replaced by the Jamestown-Verrazano Bridge. An early rough estimate shows anywhere between 25,000 to 38,000 cu. yds. (19,000 to 29,000 cu m) of concrete bridge debris will be barged to reef sites in the Rhode Island Sound and the Block Island Hole.
Artificial reef programs are becoming more and more widely known throughout the world, and a variety of companies are getting involved.
"It is an ecologically sound way to get rid of the materials," Martore said. "It saves money and is a cheaper option for companies. It is more and more widespread."CEG