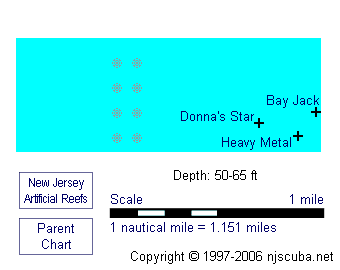 Bold indicates
off-page listing.

| | |
| --- | --- |
| Type | Number |
| fishing | 1 |
| tugboat | 1 |
| tow boat | 1 |
| Total | 3 |
DEP ADDING NEW REEF SITE OUTSIDE OF TOWNSENDS INLET
February 6, 2006
The New Jersey Department of Environmental Protection announced it would build a new reef site off the coast of Cape May County to enhance its nationally recognized network of 15 artificial reefs while strengthening marine resources, improving recreational opportunities and boosting the state's economy.
Recently approved by the U.S. Army Corps of Engineers, construction of the reef, to be situated approximately 3.8 nautical miles southeast of Townsends Inlet in Cape May County, will be funded almost entirely through private donations. Some 800 reef-ball habitats are scheduled for deployment this summer on the Townsends Inlet reef site.
The reef site measures slightly more than one-half square mile with a depth between 49 feet and 66 feet. Its inshore portion will be used as a drift fishing area; the offshore portion will be reserved for vessels to accommodate diving. The new reef will become part of the state's Artificial Reef Program, administered by the DEP's Division of Fish and Wildlife.
Artificial reefs play a key role in supporting New Jersey's marine fishing and diving industries, and contribute more than $50 million to the state's economy every year. These reefs also benefit the environment by providing new habitat for marine life. In fact, one out of every five fish reeled in by recreational anglers in New Jersey's salt waters during 2000 was caught on a reef site.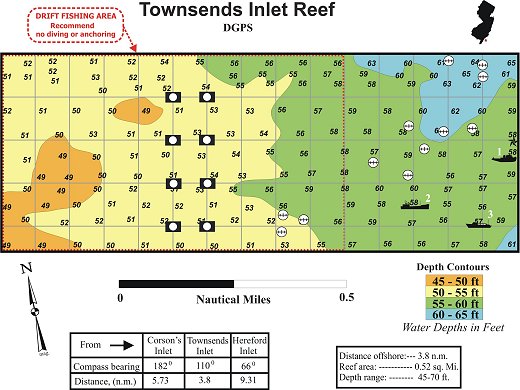 July 2006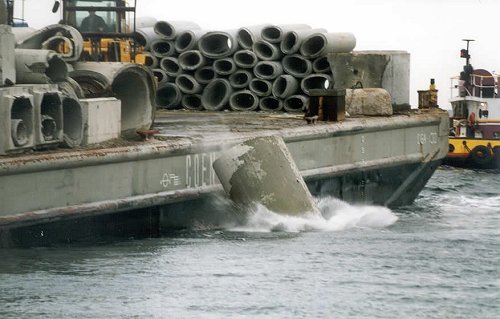 Approximately 1,100 tons of concrete castings, pipes and culverts were
deployed in July 2006 to construct a "drift fishing" area on the reef site.
700 concrete reef balls were also placed on the reef.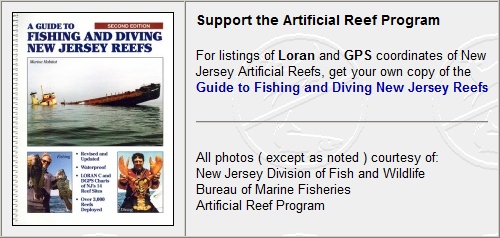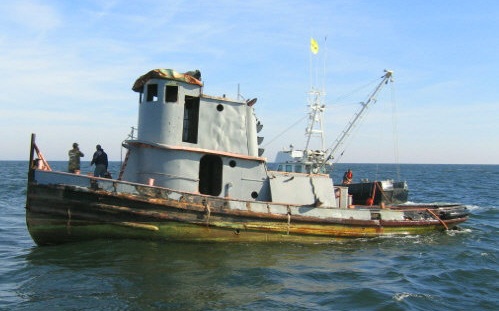 | | |
| --- | --- |
| Type: | tugboat, US Army |
| Specs: | ( 60 ft ) |
| Sunk: | November 2005 |
| Sponsor: | |
| Depth: | 60 ft |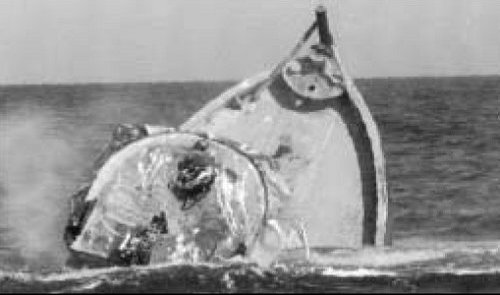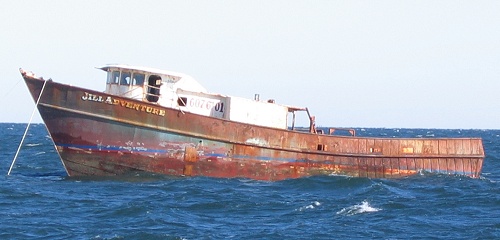 | | |
| --- | --- |
| Type: | trawler |
| Specs: | ( 82 ft ) |
| Sunk: | Tuesday December 20 2005 |
| Sponsor: | Friends of Donna, Atlantic Capes Fisheries |
| Depth: | 60 ft |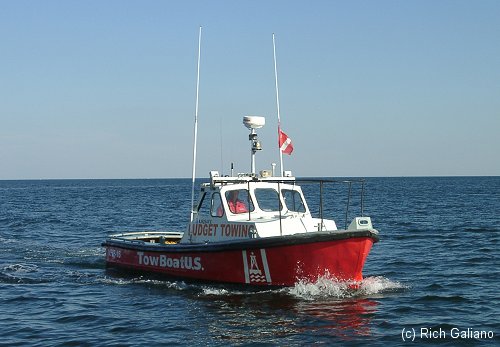 | | |
| --- | --- |
| Type: | tow boat |
| Built: | 1956 |
| Specs: | ( 30 ft ) |
| Sunk: | Tuesday July 18, 2006 |
| Sponsor: | Budget Towing - Point Pleasant / TowBoatUS |
| Depth: | |
These old ex- Coast Guard utility boats were prized by commercial operators for their power and robust steel construction. On retirement from the Coast Guard, this one was acquired for use as a tow boat, precisely what it was originally designed for. the engine and transmission were removed and replaced with a reef ball for ballast. Prior to sinking, the engine and transmission were removed and replaced with a reef ball for ballast. The cost of the prep work and towing was covered by the proceeds from the "Townsends Inlet Reef Fluke Tournament" on May 20th 2006. Local businesses and anglers from Avalon and Stone Harbor area organized the tournament.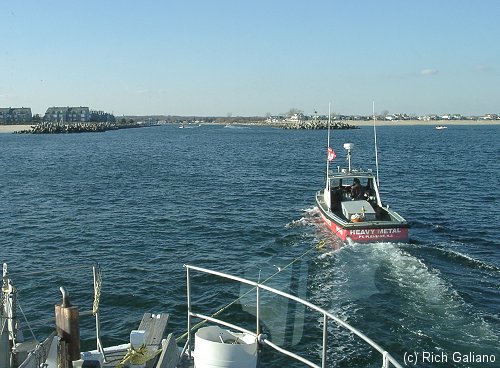 At work, 2005
"This steel-hulled surf boat was eventually retired from active duty and fell into a state of disrepair. Budget Towing & Salvage ( TowBoatUS Manasquan, Shark River and Mantoloking ) acquired the boat in 1991 and put it to work serving the boaters of central New Jersey. The boat was old, wet and very noisy, although it handled seas extremely well, and it was great in the shallows for grounded boats. It had a large skeg that we could actually ground the boat on and work it up on the flats and then back out. Offhand, I can think of at least 6 dive boats that were towed in over the years by Heavy Metal."

-- Capt. Duane Clause, TowBoatUS
| | |
| --- | --- |
| 30 Foot Utility Boat | The untiring 30 foot utility boat was produced in several versions and served the US Coast Guard until it was replaced by newer 32- and 41- foot boats. The 30 footer could be seen serving from nearly every Coast Guard Station in the US and was used for all duties including law enforcement and SAR. The 30 footers were built of fiberglass in 1962 to replace older steel 30 footers that were built in the 1950's. |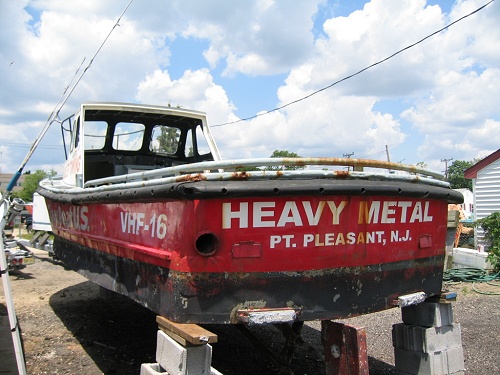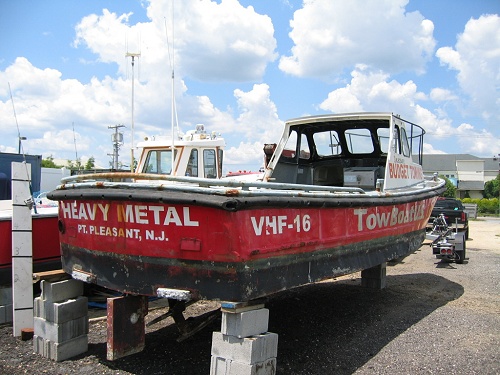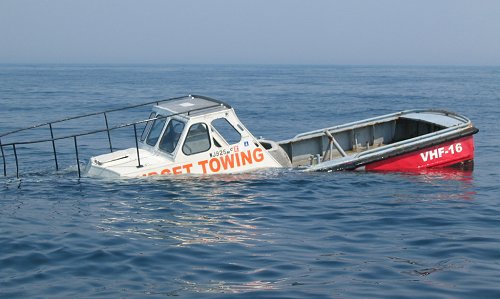 Heavy Metal has been utilized by the Artificial Reef Program many times over the years. More pictures of her in action can be found on the Axel Carlson Reef.