The coral reefs in the Tunku Abdul Rahman Marine Park devastated by the Storm Greg in 1997 will hopefully be rehabilitated with the planting of 200 reef balls in the area.
The RM400,000 pilot project by Sabah Parks is to restore ailing coral reefs and create new marine life in the park, which consists of five islands popular with tourists and day-trippers.

Successful in protecting sea turtles in other projects, the reef balls are expected to do the same here, while preventing fishing trawlers from entering the protected area and preventing beach erosion.

The reef balls, each weighing about 2,722kg and 1.37 metres high, have sharp and coarse surfaces ideal for coral formation and marine growth.

The project was launched today by Tourism, Culture and Environment Assistant Minister Datuk Karim Bujang at Pulau Manukan, the most popular island within the park.

Also present were Sabah Parks director Datuk Lamri Ali, assistant director Paul Basintal, Borneo Divers managing director Clement Lee and representatives of related organisations.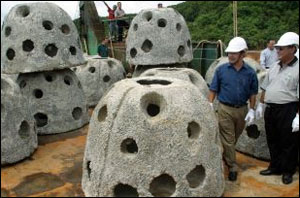 REHABILITATION PROJECT: Karim (second from right) and Lamri checking out the reef balls on the barge.

At the launch, several reef balls were dropped into the sea near the island from a barge.

The environmentally-friendly reef balls were first used by the Sarawak Government at Batu Penyu near Pulau Talang-Talang in 1998.

A study by the Sarawak branch of the Fisheries Research Institute has shown that reef balls proved to be efficient in preventing trawling activities, especially near turtle nesting beaches.

Another private dive resort on Pulau Mataking has also started using reef balls to rehabilitate its corals for the diving industry.

But the re-growth may take time depending on the surrounding environment and health condition of the reefs.

About half a million of these reef balls are being used in 3,400 projects in 43 countries around the world.

"However, the funding for these projects is not cheap, so we hope that more corporate companies and NGOs will offer to help us with this worthy cause," said Karim.

An estimated RM1.5 million is expected to be spent on a similar project in the Selingan Turtle islands, off Sandakan, next year.

Nevertheless, Karim said, the Government still needed the people's understanding and co-operation to make such projects successful in the long term.