<![if !vml]>

<![endif]><![if !vml]>

<![endif]>
<![if !supportEmptyParas]> <![endif]>
<![if !supportEmptyParas]> <![endif]>
2005 Intel Environment Award Laureate
<![if !vml]><![endif]><![if !vml]><![endif]>
Reef Ball Foundation
Katherine Kirbo & Todd Barber
890 Hill Street
Athens, GA 30606
(770) 752-0202
kathy@reefball.com
reefball@reefball.com
www.reefball.org
<![if !supportEmptyParas]> <![endif]>
<![if !vml]>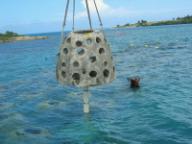 <![endif]>Project Countries: Antigua, American Samoa, Australia, Bahamas, Bahrain, Barbados, Belize, Brazil, Costa Rica, Columbia, Canada, Cayman Islands, Curacao, Dominica, Dominican Republic, England, Germany, Guam, Guatemala, Haiti, Hong Kong, Indonesia, Iran, Ireland, Italy, Jamaica, Kuwait, La Reunion Island, Malaysia, Maldives Islands, Mexico, Mustique, Netherlands, Nevis & St. Kitts, New Zealand, Oman, Philippines, Puerto Rico, Qatar, Saint Lucia, Sint Maarten, Saudi Arabia, Scotland, Spain, Switzerland, Taiwan, Thailand, Turks and Caicos, Turkey, United Arab Emirates, USA
<![if !supportEmptyParas]> <![endif]>
Project Overview:

The Reef Ball Foundation's mission is to help restore our world's ocean ecosystems and to emphasize and protect our natural reef systems through preservation, Reef Ball technology, innovative public education projects and community involvement. Because coral reefs play a vital role in our world and they have been severely threatened, The Reef Ball Foundation was formed to help preserve and restore coral reefs and our ocean ecosystems and provide unique educational projects and programs to raise the awareness of their importance.

Problem Addressed:

11% of the world's coral reefs have been lost and another 16% were damaged during 1998 with El Nino. Scientists estimate that another 32% of coral reefs will be lost in the next 30 years if we continue our present rate of destruction. Dynamite fishing, run-off, pollution, global warming, and over fishing are just a few of the pressures humans are putting on the health of our reefs. Without reefs, marine life will be threatened and we will have severe losses in biodiversity of species and in turn, our fishing systems will be bankrupt.

Technology Solution:

The Reef Ball was designed to help restore reefs. A Reef Ball is a designed artificial reef made of special concrete aggregates that mimics the appearance and function of the natural coral reef. Reef Balls are hollow with openings and channels, which create an ideal living environment for a variety of marine species. The concrete, with a pH similar to seawater, assures compatibility with marine environments and enhance its attractiveness to colonizing invertebrates and plants. Aside from coral and marine habitat restoration, Reef Balls are also used to protect beaches and help with oyster recovery in bays and estuaries.