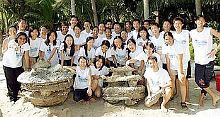 Teens launch new reef balls

BY FARRIS BAHAROM AND GOH EE KOON
PULAU MABUL: The Star's BRATs (Bright Roving Annoying Teens) launched 30 new reef balls off the Sabah coast here on Friday as part of their conservation and nature awareness programme.

The reef balls, patented by Reefballs Asia, would make up the new Sipadan Mabul Resort-BRATs reef to commemorate the joint 10th anniversary of the resort and BRATs in undertaking the programme.

The reef balls will act as an artificial reef to encourage coral growth and other marine life.

The BRATs are members of The Star's young journalists programme for teenagers aged between 15 and 19.

With the help of staff from Reefball Asia and the resort, the BRATs constructed four concrete reef balls, each weighing 400kg, during their five-day stay at Pulau Mabul.


JOINT EFFORT: The BRATs posing with the new reef balls at Pulau Mabul on Friday. The reef balls will act as an artificial reef to encourage coral growth and other marine life.
The new reef would join the resort's in-house reef, also made from reef balls and man-made structures which were introduced by resort owner Robert Lo.

Reefballs Asia principal Wong Ka Seng admired the zeal displayed by the BRATs in doing their bit for conservation.

"Marine biology and conservation are very good fields for young people to venture into as, unlike other fields, they are relatively new.

"With four or five years of study, one could easily become the world's foremost authority on a range of subjects," Wong said.

The 31 BRATs also undertook a coral propagation project by placing pieces of live coral into cement plugs.

Scuba divers then placed the cement plugs into the reef balls.

A research team for Reefball Asia is monitoring the growth of the new reef.

The BRATs team comprised those selected from workshops and programmes held during the year.

The aim was to get them to initiate different projects to create public awareness about environmental issues and the socio-cultural conditions found on the island.

The year-end adventure to Pulau Mabul was made possible by Malaysia Airlines GRADS programme.

Earlier, the team was assured of their safety during the one-week stay at Pulau Mabul, about 20 minutes away from Sipadan by speedboat, by the Malaysian armed forces unit based there.

The unit of 650 personnel included over 100 commandos and 100 elite special force members.

Their objective is to thwart any kidnapping and robbery attempts on the islands.

Major Abdul Karim Ahmad, who is responsible for the security from Lahad Datu to Roach Reef, a man-made island north of Sabah's coastline, said security of visitors was 100% guaranteed.

The area had some 42 islands, nine of which have army personnel guarding them.

"For Pulau Mabul, 26 policemen have been stationed there, as well as my own men, some of whom are in uniform and others in plainclothes," he said, adding that access to the islands are only by speedboats.

"We have identified boats that are allowed to come through. If any boats are unauthorised, we will ask them to turn back.

"We will station police and army personnel on any island which has tourists," he said, adding that if the people needed to be evacuated from the islands, military speedboats and helicopters would be used.