PROGRAMS & PROJECTS
EVENTS
NEWS
HOW CAN I HELP?
LINKS
More than 44% of the shoreline vegetation, mangroves and salt marshes -- the bay's primary nurseries -- have been destroyed to build waterfront homes and seawalls. In the city of St. Petersburg alone, there are 288 linear miles of seawalled shoreline, primarily in residential single-family homes on "finger fill" type construction. Destruction of mangrove and marsh habitat has impacted colonial shore and wading birds dependent on mangrove forests, marsh, and sandy beaches for nesting sites. Additionally, years of poor water quality have impacted the bay's scallop and oyster fisheries and there are currently very few locations in Tampa Bay where oyster harvesting is permitted due to poor or degraded water quality conditions.
Tampa Bay Watch is embarking upon efforts to protect and restore coastal communities in the Tampa Bay estuary is through our seawall oyster reef program. This regional program enhances habitat value and provides water quality benefits by constructing seawall reef units in residential canals, to promote the reestablishment of oyster reef and other littoral benthic communities.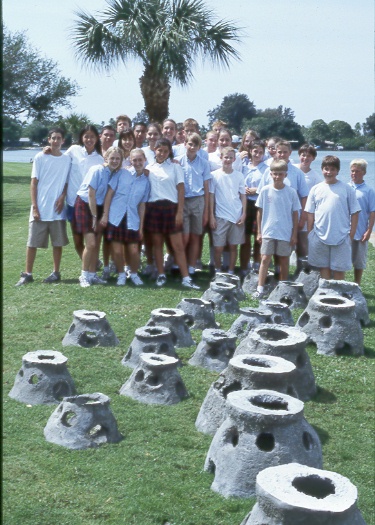 The seawall oyster reef balls are constructed in two sizes, using concrete. The ingredients in the concrete mixture have been determined to be non-toxic to marine organisms. (Originally, the reef units were constructed with a biodegradable wooden material, but the reefs were dissolving too fast to allow sufficient oyster growth, so this alternative material was selected.) After curing for about a week, four to six reef balls are placed in front of individual homeowner seawalls, depending upon the length of the seawall property. Public parks and school properties allow a greater number of reef units to be installed because of the larger length of shoreline available at one location. Community events with youth groups, fishing organizations, homeowner associations and others are also planned to construct and install the oyster reef units at public parks or along waterfront neighborhoods. To date, Tampa Bay Watch has installed over 650 reef units along public and private seawalled areas.
Anticipated Benefits to Living Marine Resources:
The oyster reef communities provide diverse food sources or foraging areas for a variety of important fish species (redfish, snook, sheepshead), birds (American oystercatcher, ibis, herons), and other wildlife species (blue and stone crabs, and penaeid shrimp).

Oysters are filter feeders capable of surviving in a variety of water quality conditions and are found throughout the estuarine portion of the Tampa Bay ecosystem. Oysters can potentially filter 37 liters (9.8 gallons) of seawater every hour providing a natural cleansing system for the bay.

The hard bottom communities formed by oysters help stabilize bottom sediments, resulting in reduced turbidity levels, and lowered shoreline erosion rates, thereby protecting adjacent property owners during storm events.

Oyster reefs greatly increase surface area and interstitial area for other attaching organisms (such as barnacles, sea squirts, anemones, sponges, corals and algae), immensely increasing the productivity of the benthic area.

The constructed oyster communities provide recreational opportunities for the homeowners by improving fishing along the seawalls.
For more information about the Seawall Oyster Reef Program, or if you would like to have Oyster Reef Balls placed in your waterfront shoreline area, please contact us!