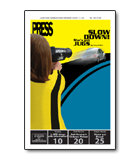 FLASHLIGHT
Wanted: 200-foot barge for underwater viewing
Some Juneau area divers want a more interesting view down under. To that end, they are planning to sink a 48-foot sailboat in about 70 feet of water later this summer. A half-moon-shaped cove on the west end of Auke Bay, known to divers as "Auke Rec Cove" has been designated an underwater park. The doomed sailboat, christened the "Arctic Tern" by the volunteers preparing to sink her, will be the second one to go down in the 40-acre dive-park. The first was the "Rikki Tikki," which the parks department reports has attracted king crab and other sea-life.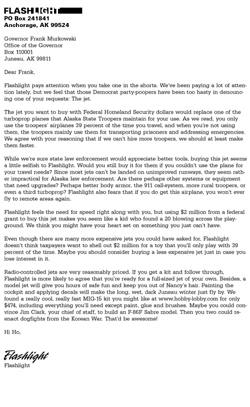 "This is a pretty inert thing that's being sunk. They've steam-cleaned the hull, and we've done a coordinated review on the project," Joe Donohoe of the Alaska Coastal Management Program said.
Both the Rikki Tikki and the Arctic Tern have ferro-concrete hulls, a hull material that has fallen out of favor lately. Donohoe has friends using ferro-concrete hulls in commercial fishing and said the insurance industry doesn't like the boats. It's not that they're unsafe, he said, they just don't last long and require expensive maintenance. "They just flat can't get insurance," Donohoe said.
The parks department's plan includes sinking other objects in the park, including large pipes (known to attract sea life), an as-yet unfound barge (a 200 footer would be nice), and large stones called "cobble" and "reef balls." Reef balls are large honey-combed balls made of concrete, stacked close to each other. They're used a lot in artificial reefs in Florida.
-Scott Christiansen
Mad cow makes farmers mad
Since December of last year, the USDA has banned Canadian cows from crossing into the U.S. because of bovine spongiform encephalitis, or mad cow disease. This includes the Alaska/Canada border. As a result, there's a dearth of cows coming to Alaska, and the state Board of Agriculture and Conservation has declared an emergency, a move that would allow easier access to loans for Alaska farms.
The ban has resulted in a growing demand for cows, as well as bison and maybe even elk, farmers said. All of those animals are ruminants (cud-chewers), and all have been banned at the border. A surplus of Alaska-grown grain would drive demand for beef and bison if not for the ban, said Wayne Brost, a dairy farmer who serves on the Alaska Farm Bureau Board. "If you need to eat up that surplus feed, you might bring in more feeders in order to use that up," Brost said.
The farm bureau plans later this month to discuss the issue. Farm bureau executive director Jane Hamilton said the organization has invited state and federal agencies, Canadian agencies, and farmers who are both against and in favor of the closure.
Point MacKenzie farmers Craig and Vickie Trytten aren't complaining. The Tryttens said the closure is vital to protect U.S. herds, and, more to the point, they have heifers for sale. "We've raised enough where we are at the point that we can sell every year," Vicki said.
Brost - who doesn't need replacement heifers at the moment - said he believes farmers in favor of the closure are in the minority.
There's no end in sight for the closure, but the USDA is doing what it can to end it, said USDA veterinarian Bob Gerlach. Flashlight proposed just pretending Alaska is a part of Canada, but Gerlach said that wouldn't do. Re-opening any part of the borders would trigger international scrutiny of U.S. beef. "The government is not going to go ahead and impact international trade for the sake of saving a few farms up here," Gerlach said.
-Scott Christiansen
Who says the Daily News isn't gay?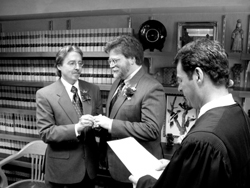 On April 6, 2004, Anchorage residents Jay Dugan and Gene Brause were married in Multnomah County, Oregon, during a brief window when the county granted marriage licenses to same-sex couples. The legality of these 3,000 marriages was later challenged in the Oregon Supreme Court. Still, Jay and Gene were excited when they got back to Anchorage. They sent a wedding announcement to the Anchorage Daily News for publication. Weeks went by without their announcement's appearance. The couple said they inquired about the application and were told that the application had been denied because the marriage was not legal, and the announcement would not be proper to run. Jay and Gene were also told they could submit an announcement of a milestone anniversary, but the newspaper wouldn't mention their marriage because of the pending court case.
Flashlight hardly ever thinks about earthly laws that attempt to control supernatural things like love, but Pat Dougherty, editor of the Anchorage Daily News, apparently thinks about them a lot. He told Flashlight that since the same-sex unions were being challenged in the Oregon Supreme Court, Jay and Gene had not technically made honest men of each other. In essence, the Daily News would violate its own standards for factual accuracy if it printed Jay and Gene's notice as a marriage, not a milestone.
In an email, Dougherty wrote, "When the legal status of the marriage is resolved, we will be able to apply our policy to it."
Other newspapers have addressed this issue differently. The New York Times announced in 2002 that it would change the "Weddings" section in its Sunday Style section to "Weddings/Celebrations" in order to accommodate same-sex commitment ceremonies and legal marriages, calling them "discrete phenomen[a] meriting coverage in their own right." Denny Bonavita, editor of the Courier-Express in DuBois, Pennsylvania, told journalism think-tank, The Poynter Institute, that his paper will print same-sex union announcements because "we're in the business of telling stories, not not-telling stories."
Dougherty said that some Daily News readers have suggested to him that since same-sex marriage isn't recognized in Alaska, his newspaper shouldn't run notices about them at all. Dougherty said that "I understand the argument, but I don't share the conclusion."
Jay and Gene said the Daily News offered them a compromise: to submit an anniversary item with mention of the ceremony, but not a wedding announcement.
-Scott Woodham
Anchorage Press articles, commentary, news, reviews, features and calendar are copyrighted by: Anchorage Publishing, Inc.

540 E. 5th Avenue Anchorage, Alaska 99501. For information

call 907-561-7737

. Website development by

Press Online Services

.