Last issue you got my spiel on Virginia's Artificial Reef Program. You know a little bit about what Mike Meiers and crew have been up to and what to expect from them in the future. Now I would like to give you a glimpse into what goes on when an artificial reef addition is actually put together and deployed.

When Mike invited me to come out and join a group of middle school students who were going to "build" the reef balls I figured that there couldn't be that much to it. What I learned however, is that to do it right (not just dumping large household appliances overboard) you need a few more materials than one finds in your own backyard. The focus of this particular group was the tireless volunteers from an organization known as The Reefball Coalition.


Lena Jankowsky and Jason Seeley operate an organization that brings together artificial reef programs (such as our VMRC program) and volunteer groups to build and deploy artificial reefs. Although Hampton Roads is not the most exotic location the two have visited–I think they're in Dominica right now–their energy and enthusiasm for our project was contagious. (Note: you can see their other projects at www.reefballcoalition.org) The program they have developed includes a week long excursion for the volunteers including visits to local places of interest, fun trips such as kayaking or scuba diving as well as educational and informative lectures regarding the importance of reefs to our ocean health.

Follow the evolution of an artificial reef as you join Page Hutchinson's 8th grade science class from Burley Middle School in Charlottesville, local dive club Hammerheads president Charlie Watts, with assistant Josh, and Lena and Jason from The Reefball Coalition.



On Location at Craney Island Coast Guard Station.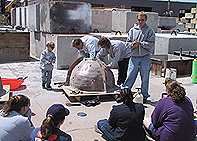 The first thing to do was to assemble the four-piece fiberglass molds on their plywood bases. Jason explains the basics while charlie & Lena demonstrate, with a little help from Josh!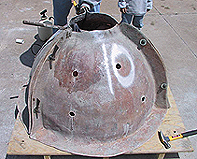 Some basic hardware, a little bit of elbow grease and voila! Reefball mold.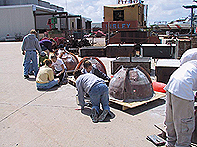 The kids jumped in with both knees and made short work of assembling the
ten molds.