Topsail Island Turtle News for December 2005
What the "Dickens" is going on?!
I always love being at the turtle hospital. But I especially love it as we wind down from our hectic Tuesday morning work. The feeding and medical chores are done, the tanks are scooped and cleaned, the kitchen area is wiped down, and the turtles are settling in for their late-morning naps. The water, which has been circulating through a series of filters for several hours, is usually crystal clear when it's turned back on. The soft splashing is hypnotic. With only natural light streaming through the windows, the space is magical, almost spiritual.
Last week, as I quietly surveyed the scene for one last time before leaving, I was startled by the appearance of…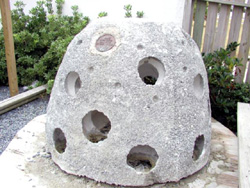 Dare, "the turtle of Christmas past." A very special turtle, not only to me, but also to every single volunteer who knew her. She was so close to being released; so close. But when hurricane Floyd threatened the island she was evacuated to a "safe" place. Who knew that safe place would ultimately prove fatal to our little Kemp's Ridley. For three days she was battered and tossed in the raging floodwaters. Our sweet little Dare was left with severe physical, neurological and psychological damage. We tried everything to make her well, from advanced medical treatment to massage. In March of 2005, Dare bravely endured 8 hours of surgery. The next morning she decided to leave us.
Heartbroken, we honored her in a very special way, by creating "Dare's Reef." Her ashes were mixed with cement to form an artificial reef ball. Dare's reef ball waits outside of our hospital, the place where she spent most of her short life. Next June, Dare will travel to her final resting place in the waters off of Topsail Beach. There her reef ball will be lowered to the bottom, where it will become the foundation piece for a new artificial reef carrying her name. We will tearfully return her to Mother Ocean, and she will be, as the bronze plaque on her reef ball promises, "at peace – at home." Her spirit departed, now truly at peace.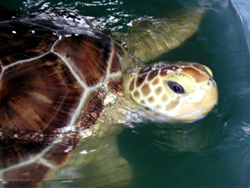 Immediately my attention was drawn to the commotion in the big corner tank, where Bay was whipping up froth with her flippers. When I approached, she darted over to speak as "the turtle of Christmas present." Our beautiful little green arrived over 4 years ago, a babe suffering from prop injuries that have long since healed. "So why," she asked, "am I still here? So many of my turtle friends have already gone home."
Despite extensive research, brainstorming medical consultations, and traditional and experimental procedures, the excess air in her body cavity remains trapped. Bay floats, all the time. Right now she's adorned with her latest "bling:" a lead weight epoxied to her shapely rear end. It helps, but it's not the solution. If released in her present condition she would suffer a long, slow death from starvation. Such a pretty face, inquisitive and trusting. This gentle vegetarian would love nothing better than to be grazing peacefully through the seas.
Eventually she would grow to over 300 pounds. But we can't cure her.
Our gift to Bay? She's going to be a much-anticipated addition to the Minnesota Zoo & Aquarium in 2006. Jean Beasley, the founder of the turtle hospital, will accompany her on the trip, and will spend several days observing her as she adapts to her new life. Since the aquarium has a "critter cam" Bay can wave to us and we can track her progress. It's not the ocean, but it's the very best thing we can do for her. Hearing the news, Bay swam off to bask in the sunlight shining through the window, dreaming happy thoughts of a much larger tank and many new friends.
As I picked up my keys and got ready to leave, I heard whispering from the kitchen area. When I paused to investigate, "the turtles of Christmas future," the "Nubbins," frantically waved their tiny flippers, trying to get my attention. "Hey, lady – how much longer do we have to live in these little basins?"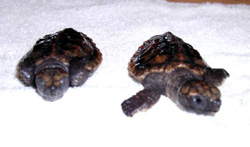 The "Nubbins" are about 2 months old now and have gone through an amazing transformation. They arrived at our hospital as tiny brown lumps. One had stubs for flippers. The other had pitiful little flippers of varying sizes that curled tightly at the ends. Nonetheless, we thought they were beautiful, and we watched in wonder as their flippers eventually caught up to their bodies.
You might surmise by the way they questioned me that these two have an "attitude." But attitude is what they'll need to survive, individually and as a species. How could I tell them the odds against them were astronomical? Only 1 in 10,000 of these precious creatures reach adulthood. We'll keep them here until they're strong enough to be taken by boat to the seaweed rafts at the drift line of the Sargasso Sea.
We at the turtle hospital will never stop working and hoping for a better future for our turtles. Never.