Buried at seaConcrete-encased ashes become part of artificial reef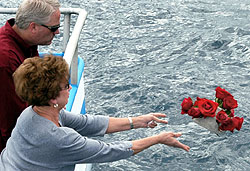 Joe Hermosa / Valley Morning Star

Marcia Pollard tosses a symbolic reef into the Gulf of Mexico in memory of her husband, William Pollard, who was buried in a reef, as Keith Sorosiak stands by her side.
By JEFF RAYMOND
jeffr@valleystar.com
956-430-6281
SOUTH PADRE ISLAND — It's unlikely that the five people buried at sea Monday had ever met each other or had much in common, other than where they lived.

Yet their appreciation of the Gulf of Mexico brought their loved ones together to leave an ecological legacy, as their concrete-encased ashes became part of an artificial reef on the ocean floor.

Atlanta-based Eternal Reefs twice has placed cremains in 65 feet of water about seven miles from South Padre Island.
"We're trying to mimic the way nature does it," said Eternal Reefs Founder Don Brawley.

Brawley was working in the computer field when his stepfather told him he would like to be laid to rest in an artificial reef. The idea stuck, and Brawley convinced others to come on board. Eternal Reefs currently is the only company in the country that offers such burials.

With many cremations, family members place the deceased's urns on shelves or in garages. Brawley called them "shelf people" and said they often looked for a fitting tribute, which Eternal Reefs provided.

"We're creating a permanent environmental legacy that will last for generations," he said.

Houston psychotherapist Kay Van Cleave's mother, Lola Kate Van Cleave, died 13 years ago. When Van Cleave saw a story in the newspaper about Eternal Reefs, she knew she had found what her mother would have wanted.

"I used to think, 'I'm not going to have my mother be in a file cabinet someplace,'" she said, telling the story of writer and poet Dorothy Parker, whose ashes spent 15 years in a file cabinet in her lawyer's office.

"I've already told the executor of my will that this is what I want done to me," Van Cleave said.

As the Osprey — on leave for the day from its usual deep sea fishing excursions — bobbed on the foot-high waves, family and friends of Iris Schaa dropped iris flowers into the water and burned incense in a spiritual ceremony accentuated by a traditional nautical prayer from the crew of the Port Isabel shrimp boat "Far Horizon," which lowered the reef balls slowly into place. The memorials look like wiffle balls cut in half, with concave holes and pitted surfaces to give marine life a place to take hold.

Gary Drew Lindsey of Conroe plans to visit Iris Schaa while scuba diving. Lindsey said he would like a similar burial, but off a fishing community in Brazil instead.

"This woman was like a mother to me," said Lindsay, who retired from oil exploration. "She and her husband talked me out of going to Vietnam, so she has a dear place in my heart."

Keith Glenn of Houston lost his wife, Nene Lizabeth Sims Glenn a year and a half ago. He and his three grown children wanted to do something appropriate for the environmentally conscious writer with a master's degree from Rice University.

"It seemed like such a natural thing to do because we're giving back to the environment with this," said Glenn, who works in the oil industry, explaining that the serenity of the ocean was a "marvelous" way to give him a sense of closure.

And compared to burial in a cemetery, "If you had to pick, it's really no choice."

For more information, visit http://www.eternalreefs.com/ or call 888-423-7333.