Sun Sentinel, Saturday, February 19, 1994
ENVIRONMENT
Consultant plunges into artificial reef venture
Low-tech approach produces new haven for marine species
By NEIL SANTANIELlO
Staff Writer
While scuba diving off the coast of the Cayman Islands a few years ago. Todd Barber and his dad. Jerry, were saddened by a discovery: Their favorite coal reef had been destroyed by a hurricane.
The disaster prompted the Barbers to start looking for an easy, inexpensive way to re-create natural reefs without dumping old ships, cars, construction debris or other massive pieces of rubble onto the ocean floor.
They think they have invented one -molded concrete modules they call "Reef Balls"
The Barbers use simple equipment, including inflated beach balls, ocean buoys and inflatable toys to sculpt their rounded reef building blocks into attractive habitats for fish and other ocean organisms.
The grey modules have a flat, wide bottom and are honeycombed with holes that provide hiding places for fish.
"It's real low-tech stuff," said Todd Barber. 33, on Monday, before he and three assistants began building a 6-foot-high, 4 foot-wide Reef Ball inside an outdoor saltwater tank at the Gumbo Limbo Nature Center in Boca Baton
"It's just a real novel way to put (artificial reefs) together."
After learning about the ocean-oriented nature center at 1801 N. Ocean Blvd, Barber decided to donate three Reef Balls to Gumbo Limbo, and brought his staff there on Monday for a weeklong reef-molding project.
The nature center will use one of the modules to provide hiding places for eight young loggerhead sea turtles that occupy one of the tanks. In the ocean, sea turtles usually sleep under rock ledges for protection, according to Milda Simonaitis, a marine conservationist for the nature center.
But because the nature center's logger heeds have to such hiding place in their manmade home. They tend suck their heads into the tank's drain openings while sleeping, she said.
"I gave so many people run home in a panic [when they see that], saying 'A turtle is stuck and it's dying.'" Simonaitis said.
Barber initially wanted to make three Reef Balls for the nature center, but a leak in the fiberglass mold used to make the modules prevented him from getting started until Thursday. Subsequently, they decided to make just two, he said.
The reef modules are formed from concrete poured into a fiberglass mold shaped vaguely like a space capsule, with a flat wide bottom and narrower top. In the center of the mold is a large air bladder inflated to keep the reef module core hollow.
About 35-40 inflated beach balls are wedged between the mold's interior walls and the central air bladder. When the concrete dries and the fiberglass mold taken apart in sections, the beach balls are deflated and plucked out. The resulting holes they leave in the exterior of the reef module provide living spaces for fish similar to the nooks and crannies they inhabit in reel reefs.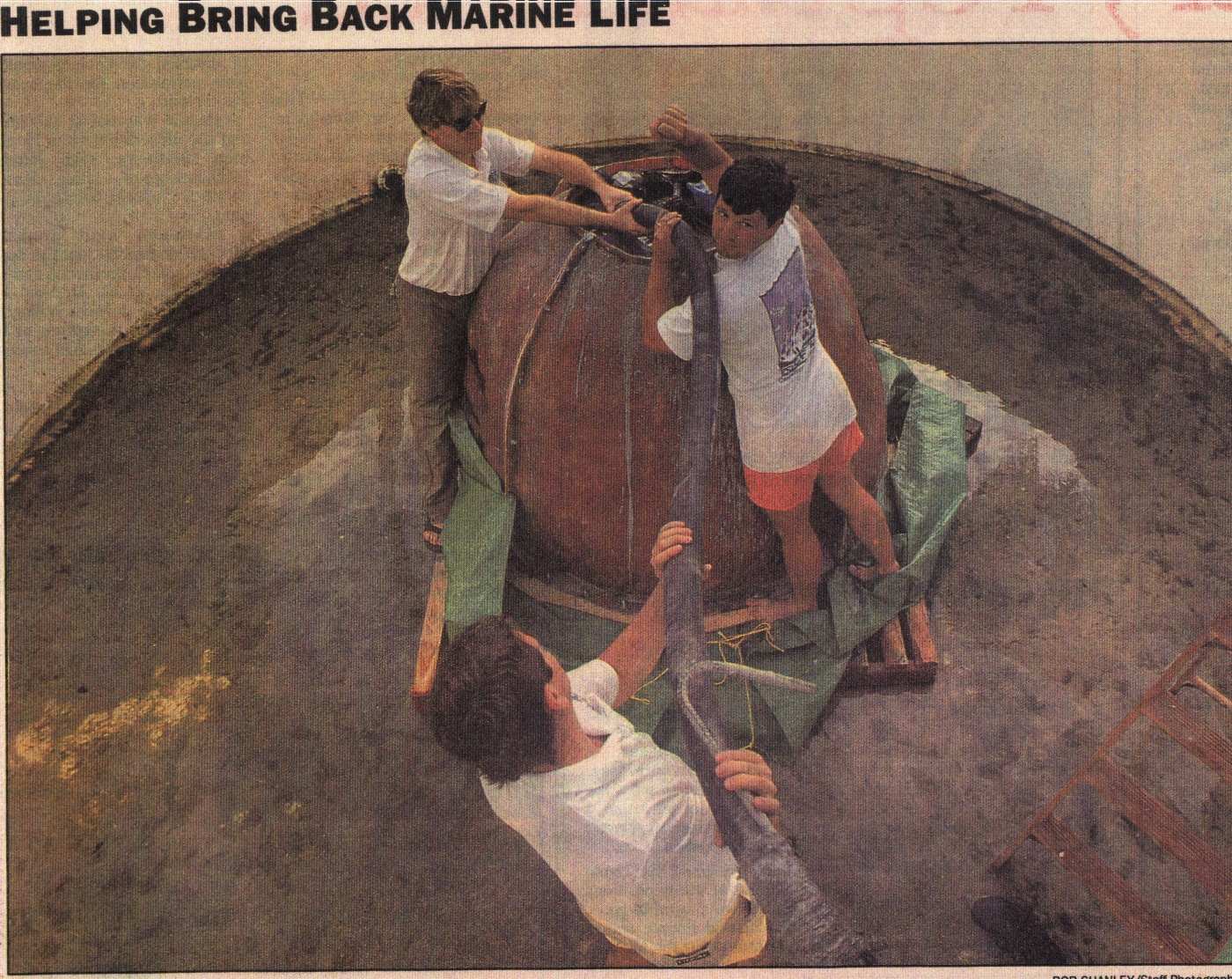 Todd Barber sits atop a Reef Ball as he prepares to fill the form with concrete at the Gumbo Limbo Nature Center in Boca Raton
The air bladder is kept inside its 4,000 pound concrete case until the Reef Ball is placed in the ocean. Then it is gradually deflated so divers can gently lower the Reef Ball to the ocean floor - without using a crane. Once it is placed in the tight spot, the bladder can be removed.
"It's pretty ingenious bow they are deployed, Simanaitis said.
And the BBs? Three are placed in each beach ball so a metal detector can find any that are covered with cement and encased in the reef module's walls, Barber said.
Reef balls can be built inexpensively and molded into different sizes and weights. One module can cost $100 to $1.000 depending on its size and use. Designed to mimic brain coral, they offer an eye-appealing alternative to sinking rusting wrecks into the sea. "Scuba divers don't appreciate going down and seeing trash on the ocean floor," Barber said.
Barber is convinced the world's oceans need Reef Balls, and recently quit a $120,000-a-year job as a management consultant to run .the six-month-old, Atlanta based company he founded - Reef Ball Development Group Ltd.
The marketing possibilities are greater than what they might seem, he said. Artificial reefs are not just replacements for or additions to damaged natural reefs. They can be used by ocean theme parks, fish farmers, private fishing clubs, and oceanfront hotels and resorts that want to cater to scuba divers, he said.
Five Florida organizations, including fishing clubs and water attractions, have expressed interest in the reef modules. So have 27 foreign countries, he said. But Barber said be still is fine-tuning his Reef Ball design, and has not sold any of the modules yet for ocean uses.
To learn more about the effectiveness of his reef modules, Barber got permission from the county to place three of them on the floor of the Intracoastal Waterway near the Palm Beach Inlet last August. A volunteer group of ocean researchers called the Palm Beach County Reef Research Dive Team is studying the modules, which already seem to be attracting sea life, said Bob Deacy, a county environmental analyst and reef team member.
"We found a multitude of fish swimming around in the Reef Balls, including a snook, Deacy said.
Spook is a desirable fish to have around any artificial reef. It is just a sign of a healthy area."
Jim Vaughn, head of the county's artificial reef program, said Barber's reef idea seemed to have merit but said "building Reef Balls by hand wouldn't be a practical matter for a big county artificial reef project"
The modules, he said, might be better suited for small reef projects, like those undertaken by fishing clubs or dive groups.