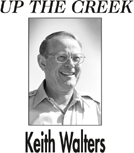 The Dorchester County Chapter of the Maryland Saltwater Sportfishermen's Association (MSSA) has been working on a Reef Ball project, according to chapter president, Clint Waters.
There are 17 scheduled fishing reefs to be built in the Chesapeake Bay area. Two are to be built in the Choptank River. Many organizations are involved in creating these reefs, including the Oyster Recovery Program, Maryland Department of Natural Resources (DNR), Maryland Environmental Services, Chesapeake Bay Foundation, Natural Oceanic and Atmospheric Administration and MSSA.

Waters has been working the 200 members of the Dorchester County Chapter of the MSSA involved with the reef project. Since a recent demonstration of reef-ball construction, the Dorchester group has been pouring and making concrete reef balls. The reef balls weigh between 130 and 140 pounds. It takes about three to four days for the cement to cure before it can be moved. Mid-Shore Electronics has provided a place for the reef balls to be constructed and stored. Martin Hardy of Composite Yacht LLC, upon learning of this project, wanted to get involved and is building molds to donate to Dorchester MSSA so it can keep making reef balls after the two present molds are returned to the Perry Hall MSSA Chapter.

When the reef balls are ready to be placed in the water, the DNR embeds the balls with oyster spat. The balls are then lifted by a crane and put in place on a fishing reef by scuba divers. The reef balls will provide a habitat for oysters, crabs, fish and grasses as a natural coral reef. Two reefs are presently being built and the MSSA has been a major contributor. One is the Memorial Stadium reef which covers eight acres at Gales Shoal and the other is the Taylor's Island reef off Taylor's Island and south of C&P buoy.

Through the efforts of the MSSA, the largest recreational fishermen's organization in Maryland, the Chesapeake Bay and Choptank River will have new aquaculture structures and resources to enjoy for years to come. If you want to get involved with this project, come to the next chapter meeting on Thursday, Aug. 21, at 7:30 p.m. at Composite Yacht on the Talbot County side of the Fred Malkus Bridge in a small strip mall there on the hillside.

The guest speaker is Martin Hardy of Composite Yacht. Martin will explain how boats are built and new technology in boat building. Martin, upon learning about the reef ball project, has promised to make a couple of molds so the chapter can produce reef balls all year long.

Call Clint Waters at 410-376-3563 or Pete Vigneri at 410-901-9901 for more information.

***

Chuck Prahl at Tommy's Sporting Goods in Cambridge says that keeper stripers are starting to show up in the usual places in the Choptank River. He was not too specific about the exact locations, but he and Tommy Hooper caught eight keepers one recent morning. They released most of the fish to fight another day. Deep jigging and tossing Chucktail bucktails turned the trick.

***

Kudos, too, to Norm Haddaway, who assembled the crew that caught all the fish for the recent CCA MD Mid-Shore Chapter picnic on Knapp's Narrows. Norm said he had to run down the Bay a ways to find fish and fished much of the previous night.

***

The Bay Hundred Ducks Unlimited Chapter announced its annual Sponsor Event will be held at Dr. Stan and Babs Minken's Lostock Farm in Bozman on Saturday, Sept. 6.

Registration for the dove hunt will be from 11 a.m. to 12:30 p.m. on the 6th. The hunter's meeting will be at 12:30 p.m., with a dove shoot from 1-5 p.m.

Registration for non-hunters is from 4:30-5:30 p.m., overlapping happy hour at 5 p.m. Dinner is next for those registered, followed by silent and live auctions.

For information, call Ed Henry at: 410-745-5457.

***

Jim Walker and I cooperated in pulling our boats recently. He helps me get my boat on its trailer and vice versa. Jim sometimes operates on the verge of calamity. First, the cable on his power winch got itself behind the cable spool and wedged itself in. It took a lot of coaxing with various tools to get it freed up.

Then, we picked up my boat. Luckily, no problems, since I wasn't prepared for any with spare tires, etc. At home, I power-washed the hull, and will give it a coat of bottom paint when the rain stops. Ho-ho.

Jim drove his boat to the ramp, and I drove his truck and trailer. The boat came up on the trailer nicely, and I gunned the truck up the ramp, luckily noticing the driver's side trailer tire was flat. I thought it came up slowly, like something was holding us back.

"No problem," Jim said with great confidence as I ruminated about how I'd get back home for my electrically-powered air compressor, since no power is available at the launch ramp. Jim dove into the back of his pickup and brought out a small 12-volt air compressor with a gauge and tire valve attachment. He hooked the hose fitting to the tire valve and plugged the power cord into the boat's cigar lighter. "Glad I installed that lighter outlet," he chuckled.

When the tire again held air, he pulled the truck and boat out of the way so another boater could launch. "Boy," the launcher said, "you really came prepared!" Jim allowed as how he wasn't worried - he also had a spare trailer tire.

"Yeah," I told the boat launcher, "Just don't ask him about fish hooks!" (That's a long story about hospital emergency room folks seeing him frequently enough to call Jim by his first name).

-----

Author's Note: Keith Walters' 334-page book, "Chesapeake Stripers" details the Golden Age of rockfishing in Chesapeake Bay. Now in its seventh printing, the 334-page 6x9 softcover $19.95 book details tips tackle, times, tides, techniques, and tall tales illustrated with 100s of photos and drawings of tackle and rigs. It is available from Washington Book Distributors web site at www.washingtonbk.com or you can call them with a credit card order at 1-800-699-9113 during regular business hours.