<Back (Translated English Version at Bottom of Article)
Wer im Jahr 2001 auf der "Boot" in Düsseldorf war, hat sicherlich zwischen Aktionsbecken und den Ständen von PADI und IQ den futuristisch geformten Betonkörper gesehen - das war ein sogenannter Reefball. Was ist das?
Erfunden von amerikanischen Meeresbiologen ist das eine aus Beton gegossene hohle Halbkugel, die außen und innen sehr schnell von Meeresorganismen besiedelt wird. Mehrere davon bilden ein räumlich begrenztes künstliches Riff, um der Natur Lebensräume zurückzugeben.
Wir haben Mitte November als Gemeinschaftsprojekt mit dem Baltic Dive Center in Kiel ein derartiges Riff in der Kieler Außenförde installiert, es steht in 14 m Tiefe im Bereich Friedrichsort/Falckenstein.
Es war eine Menge Arbeit, die ohne Hilfe verschiedener Institutionen und Firmen nicht möglich gewesen wäre. Wir danken:
- der Stiftung A.W.A.R.E., die uns die Riffbauformen leihweise überließ und auch
die Speditionskosten trug,
- dem Umweltministerium des Landes Schleswig-Holstein, das sich von
den Vorteilen eines derartigen Riffes für die marine Umwelt der westlichen Ostsee
überzeugen ließ,
- der Firma Thomas-Beton in Kiel, die uns 6 Kubikmeter Fertigbeton zum Bau der
Riffkörper spendete,
- der Firma POSEIDON Tauchprodukte in Klausdorf/Schwentine, die uns
erstklassige Hebesäcke, mit denen sich wirklich gut arbeiten ließ, zur Verfügung
stellte
- und vor allem Kommodore und Stab des Marinefliegergeschwader 5 in Kiel-
Holtenau, das uns herzlich und sehr interessiert während der Bauphase aufnahm,
eine ideale Aufbaufläche direkt am Hafen zur Verfügung stellte und mit
Gabelstapler und Mobilkran technische Hilfe leistete.
Bitte habt Verständnis dafür, dass hier noch keine exakte Beschreibung mit Einstieg und Peilung steht, um das Riff zu finden. Wir wollen, dass sich erst einmal die Meeresorganismen weitgehend ungestört ansiedeln können. Sobald sich die Populationen stabilisiert haben, stehen hier genaue Angaben.
Und hier die jeweils aktuellen Fotos von den Reefballs
Foto 1: Bauphase, fast alle Reefballs sind von ihren Formen befreit und warten auf die Wasserung.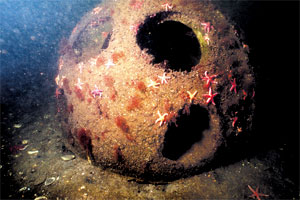 Und wer jetzt Lust hat, "vor seiner Haustür" auch so etwas zu installieren, der schickt eine Mail an aware@padi.ch oder guckt einfach mal auf die Website http://www.reefball.com/
Who in the year 2001 on the "boats" in Duesseldorf was, surely between action basins and the conditions of PADI and IQ the futuristically formed concrete body saw - that was a so-called Reefball. What is that?
Of American sea biologists a hollow hemisphere poured out of concrete, which is settled outside and inside very fast by sea organisms, is invented. Several of it form a spatially limited artificial reef, in order to return to the nature of habitats.
We installed in the middle of November as community project with the Baltic Dive center in Kiel a such reef in the Kieler Aussenförde, stand it in 14 m depth in the range Friedrichsort/Falckenstein.
It was a quantity of work, which would not have been possible without assistance of different institutions and companies. We thank:
- left., us to the donation A.W.A.R.E the reef designs on loan and also
forwarding charges carried,
- the Department of the Environment of the country Schleswig-Holstein, itself of
the advantages of a such reef for the navy environment of the western Baltic Sea
to convince left,
- the company Thomas-Beton in Kiel, us 6 cubic meters finished concrete to the building that
Reef body donated,
- the company POSEIDON dipping products in Klausdorf/Schwentine, us
first-class lifting bags, with which really well could be worked, for the order
placed
- and above all Kommodore and staff naval pilot squadron 5 in keel
Holtenau, which accepted us cordially and very interested during the building phase,
an ideal structure surface directly at the port made available and also
Fork-lift truck and mobile crane technical aid carried out.
Please have understanding for it that still no accurate description with entrance and bearing stands here, in order to find the reef. We want that only once the sea organisms can settle to a large extent unimpaired. As soon as the populations stabilized, here exact data stand.
And here the current in each case photos of the Reefballs
Photo 1: Building phase, nearly all Reefballs are from their forms released and wait for the splash-down.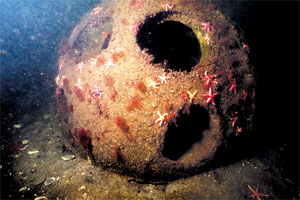 And who has now desire to install "before its entry door" also such a thing a Mail sends on aware@padi.ch or looks simply times on the Website http://www.reefball.com/