Planting reefballs at Mataking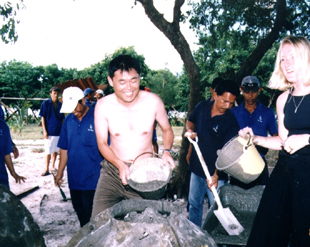 HOW IT IS DONE…Jaycee members undertaking the building of reef balls.
TAWAU: The Reef Dive Resort (TRDR) operating on the island of Mataking off Semporna has taken the initiative to beautify the underwater world.
Using the method of planting reefballs in the seabed, the resort hopes to encourage coral growth.
A joint project between Reefball Asia Sdn Bhd and Tawau Jaycees, the reefball method has been proven to be an effective way to speed up coral growth.
The exercise which took place between Aug 9-16, saw the organisers led by the resort owner, David Sie along with Reefball director Wong Kaseng, and Jaycees members building four balls daily.
It is not as easy as it sounds, as the drying of the balls will take at least a month before they are hard enough to be sunk in seabed.
Sie said the method was the first ever used in the sea of Sabah, while similar coral restoration exercise was carried out in Peninsula Malaysia.
"We don't produce life but we provide the basis in which the corals have a better chance to grow by attaching to these balls," Wong said.
At present, more than 50 countries have adopted the method to stimulate the growth of corals.
From the 3,000 known projects, in these countries, none had failed, said Wong.
The reef balls could also be used as a breakwater as well as a deterrent from illegal trawling. – Bartholomew Chong