Wednesday, July 19, 2000

'Reef balls' dock in South Tampa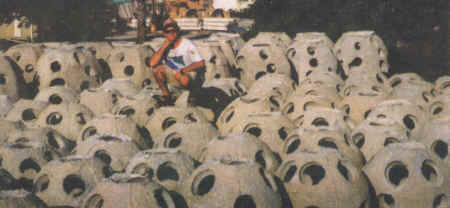 Larry Beggs, vice president of the Reef Ball Development Group, crouches on a concrete artificial reef, similar to ones being installed in Tampa Bay. The reefs are part of a project designed to attract oysters and other marine life, which in turn should help clear up the effects of stormwater runoff.
A West Shore group seeks to improve water quality after receiving grant money for artificial reefs that will attract oysters and other sea life.

By DARYL UMBERGER Staff Writer

Some West Shore residents are seeking to clear up the effects of stormwater runoff in the canals along Old Tampa Bay by using odd-looking but effective pieces of concrete.

Neighbors Against Stormwater Pollution has secured grant money to install "reef balls," or artificial reefs, designed to attract oysters
and other marine life. The group is working in conjunction with Tampa Bay Watch, which is casting the artificialreefs and installing them in the West Shore canals.

The project stretches along Old Tampa Bay from Neptune Way, above Culbreath Bayou, to off Leona Street, which runs north of Bel-Mar Shores.

"That's where our homeowner response has been thus far," said Philip Hoffman, an environmental scientist with Tampa Bay Watch.

Tampa Bay Watch is a nonprofit environmental group that monitors, restores and protects the marine and wetland environments of the bay.

In time, the groups said, the oyster communities will help to clear the water in canals that have built-up silt.

"It's difficult to say when or how long that should take. Oysters are very good water filters," Hoffman said. "The oysters are going to filter three gallons of water an hour each, 24 hours a day, seven days a week."

Eventually, the oyster communities are expected to attract other sea life, including crabs, shrimp, herons and a also should form, helping to absorb nitrogen and ammonia from runoff before it gets out into the bay.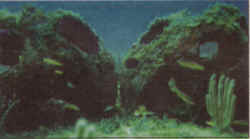 Reef balls, such as these underwater
examples, attract a variety of marine
life, from algae to small fish.
The Tampa Port Authority approved the project at the end of June. Tampa Bay Watch installed 100 reef balls June 27-30 near 25 households.

Tampa Bay Watch plans to install 200 seawall reef units in front of 40 to 50 West Shore homes in the next 12 months. The reef balls are made by pouring concrete into fiberglass molds constructed by the Reef Ball Development Group in Sarasota.

The company started in 1992 and has placed about 150,000 reef balls in 27 countries and in nearly every coastal county in Florida, said President Todd Barber.

Locally, Tampa Bay Watch has installed concrete reef balls in three locations along St. Petersburg at Snell Isle, Shore Acres and Venetian Isles. The concrete balls along West Shore are the first to be installed on Tampa's side of the bay.

"The reef ball structure is like a hemispherical piece of Swiss cheese. Water can move through it, and it dissipates the waves in front of the seawall," Hoffman said. "That's not to say that the oyster reefs are going to save your home from a category five hurricane."

Holes in the reef balls also allow small fish to evade predators.
"We use two of the smaller molds. Some molds used in the Caribbean are 8 feet high," Bald Hoffman.

The reef balls used in the West Shore project are 18 inches in diameter and 12 inches high and 24 inches in diameter and 18 inches high.

After the artificial reefs are installed, the first aquatic life to anchor onto them are barnacles. In three to six months, juvenile oysters should begin to settle. Concrete is an ideal surface for oysters, which prefer hard surfaces. Oysters that settle on sand eventually sink in and die.

Although the seawalls along the canals attract oysters, the oysters' offspring have nothing to settle on except the sedimentary bottom in front of the seawall. The reef balls will give the oysters something to rest on.

"They will eventually have a lot of oyster growth. It's much harder to deteriorate concrete underwater," said Hofman.

Neighbors Against Stormwater Pollution, which began 3 1/2 years ago, is composed of West Shore residents who live between Kennedy and Gandy boulevards, in an area that stretches from the
bay east to Manhattan Avenue.

"We got started because of the stormwater runoff that runs into the bay from all over the city. We're trying to work with the city of Tampa to come up with ways to clear up the water," said Barbara Romano, who lives along Culbreath Bayou and is the group's vice president.

"We are seeing silt pile up, getting higher and higher. It's coming at a faster rate than it ever did before because Tampa's getting bigger," said group member Julie Algood, 45, of Bel-Mar Shores.

Neighbors Against Stormwater Pollution says sea life has been depleted and that silt is shutting off the flow of natural springs.
Sludge is being deposited on some properties as water backs up through drainage systems during high tides.

The group has net on several occasions with Mayor Dick Greco about its concerns.

"We're trying to work in a friendly manner with the city. (The mayor) has been listening to us about what we can do about this problem," said Algood.

The group received a $4,000 grant from Southwest Florida Water Management District for the oyster reefs and it will continue to seek funding.

"It's gone so well we're hoping to continue the grant," said Romano.

Homeowners participating in the project are asked to sign a consent form and can decide where they want to place the reefs. For instance, if one side of a dock is used for boating, installing a reef isn't a good option.

"Obviously, fiberglass and concrete don't mix. Otherwise, it's a personal preference where they want them along the dock, or if they want them underneath the dock," Hoffman said.

Tampa Bay Watch suggests participants periodically monitor their reefs.

"We're trying to aim for some kind of interaction so that every couple of months they take a quick 10 to 15 minute look at what's growing on the oyster reefs, like barnacle and oyster growth, what kind of fish are down there," said Hoffman.

The information can help Tampa Bay Watch gauge the success of the reef.

"It's the kind of information essential to determine the reef's effectiveness," said Hoffman. "It's the easiest to maintain and also the easiest to overlook. Over on the St. Pete side, I'm getting e-mails from kids every other day telling me what's on their reefs."

Neighbors Against Stormwater Pollution also wants to involve residents through education about the use of pesticides and fertilizers in lawn care use and how they can affect the water.

"We do want to do everything possible," said Algood. "We might not be able to solve everything, but we can counteract some of it."

For more information or to volunteer your seawall for a reef ball installation, call Tampa Bay Watch at (727) 896-5320. For more information about reef balls, visit www.reefball.org, the Web site for the Reef Ball Development Group.