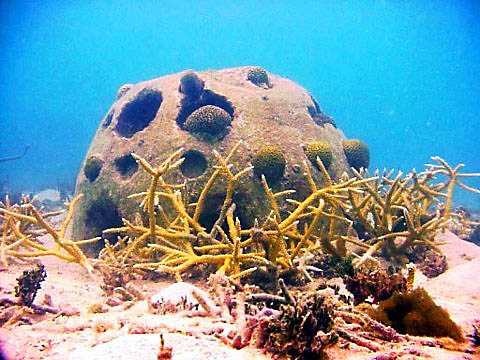 By Todd Barber, President & CEO,
Reef Ball Foundation, Inc.

Jacksonville Florida's Mandarin Senior High School, under the leadership of Alex Waters, Marine Sciences Teacher has been awarded 1st Place in the Captain Planet Category of the Busch Gardens National Environmental Awards. This award is for $10,000. This is the second time in 3 years that a High School Reef Ball Project has won this prestigious award! Thanks to all the hard work of the students and teachers involved in this project.
An Aquaculture project in the Florida Keys has requested Reef Balls to help protect the live rock farm.
The Florida Marine Educators Association will have a conference May 5 - 7. Reef Ball will make a presentation at this conference.
In April Reef Innovations started building 500 Reef Balls in Moorehead City, North Carolina for the State of North Carolina.
Reef Balls were recently deployed in New Jersey for a scientific study on Reef Balls in brackish waters. This will be a 3 year study with Reef Balls being deployed under and near docks.

COVERING THE WORLD WITH REEF BALLS

Reef Ball Staff, Reef Ball Coalition Staff and Dr. Lee Harris traveled to the Dominican Republic in April to conduct a feasibility study for yet another submerged breakwater project to protect and create a beach without sand renourishment. Our partner in the project is EMPACA, the local Reef Ball Authorized Contractor.
A PHD student at CINVESTAV Merida in Mexico will be working on a scientific project on juvenile groupers at the coast of the state of Yucatan and plans to use Lo-Pro sized Reef Balls in the study.
Reef Balls recently signed a new authorized contractor which will help to cover the European Community, North African Coast of the Mediterranean, the Arabian (Persian) Gulf and the Red Sea. The company is called Marilim, "a company for integrated sea and coastal research".
Reef Balls were deployed in Naiper, New Zealand on April 14th as a kick off project for Reef Balls New Zealand, Inc. a Reef Ball authorized contractor. The kick off will be filmed by a European film crew for distribution in the Netherlands.
Reef Ball staff are planning a trip to Sarawak, Malaysia at the end of June to assist in the expanding project to protect sea turtles.

The Reef Ball website: www.reefball.com
The Reef Ball Coalition: www.reefballcoalition.org