<![if !vml]>

<![endif]>
<![if !vml]>

<![endif]>
Underwater Rebuilding
By TIM BUGANSKY tbugansky@tampatrib.com
Published: Mar 16, 2003
<![if !supportEmptyParas]> <![endif]>
<![if !supportEmptyParas]> <![endif]>
TAMPA - A habitat restoration project off Tampa's scenic Bayshore Boulevard may help a segment of Hillsborough Bay teem with plant and animal life.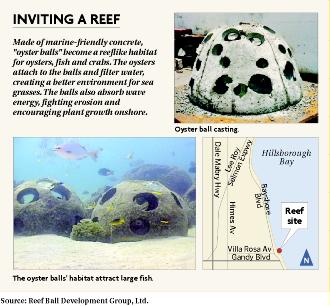 About 90 volunteers formed bucket brigade-style lines Saturday to pass 120- to 160-pound concrete ``oyster balls'' into the water on wooden stretchers.
Then, they muscled the balls to the bottom of the bay. They arranged the 125 balls in a 190-foot arc to protect the only remaining segment of natural shoreline along the boulevard seawall from further erosion.
As the honeycomblike oyster balls absorb energy from waves, more sediment should settle on the sand spit, stabilizing the beach and perhaps enlarging it.
The benefits don't stop there. Each oyster ball is a minihabitat.
``They provide a foundation which oysters will attach to and start to grow. Oysters need something hard to grow on. They won't settle on sand or sea- grass beds,'' said Peter Clark, Tampa BayWatch executive director. ``Oysters grow on the inside, outside. They're out there filtering the water.''
Cleaner water invites sea grass growth. And the balls make perfect homes for animal life.
``Big fish will cruise around the outside of them, stalking little fish and crabs that live on the inside of the balls,'' Clark said. The balls should attract snook, redfish and sheepshead, he said.
The project was funded by a $7,200 grant from the Tampa Bay Estuary Program on behalf of the Bayshore Beautiful Neighborhood Association.
The sand spit is located in Bayshore Beautiful. Association member Army Lt. Col. Eric McKsymick first got the oyster ball rolling.
McKsymick was fishing and noticed fish hung around the waters off the beach. So he set out to save the disappearing habitat, a lengthy process of securing advice, grant money and permits.
But McKsymick, formerly stationed at MacDill Air Force Base, was moved to Alabama in August. Ballast Point Neighborhood Association member Mike Flynn took over the project.
``This is the end result of about three years of effort,'' said McKsymick, back to help Saturday with the project he began. ``If it works out, hopefully, this is kind of the test case. Hopefully, the city will support more and more.''
Flynn is organizing a 100-ball project in the waters off Ballast Point Park, tentatively set for May.
This spring, 900 balls will be placed in the water southeast of MacDill Air Force Base. And Tampa might place balls elsewhere along Bayshore to encourage new bits of shoreline to develop, said Tampa Parks naturalist Julie Sternfels.
As the oyster-ball placing wound down, volunteers began to plant 1,700 salt-marsh cord grass plugs in the intertidal area near the sand spit's edge.
The cord grass project was started by students at Young Middle School with BayWatch guidance. BayWatch also helped volunteers pour 62 of the oyster balls; the rest were purchased.
``This is the beginning of the mangrove process. It loosens and separates the soil,'' said Steve McCreary, BayWatch board of directors president, as volunteers planted cord grass. ``When a mangrove seed floats in on high tide, it's able to drop in and it germinates. ... Inside of about a year, you will see small mangrove plants already growing.''
Mangroves, McCreary said, invite other life: ``A single mangrove plant can support thousands of juvenile fish, crabs, shrimp. Everything fits together.''
Volunteers Saturday included college and high school students, neighborhood association members, military personnel from MacDill and affiliates of BayWatch, the estuary program and the Coastal Conservation Association.
Bayshore Beautiful association Treasurer Lynn Cunniff stood in line, awaiting the next oyster ball.
``I've lived here a long time, and the bay used to be pretty stinky. I think it's nice we're trying to bring back some life and some good stuff to the bay,'' she said. ``We've still got a long way to go. But it's still a lot better than it used to be.''
Reporter Tim Bugansky can be reached at (813) 259-7153.
---
<![if !supportEmptyParas]> <![endif]>