Detailed Summaries & Other Neat Places on our site
OMAN - Project Reef Creator (Pro-Creator)
Coral Reef Restoration with Reef Balls
POST-HURRICANE SITE INSPECTION OF THE
REEF BALL ARTIFICIAL REEF SUBMERGED BREAKWATER
AT GRAN DOMINICUS BEACH RESORT
NEAR LA ROMANA, DOMINICAN REPUBLIC
Dominican Republic Beach Creation Project
Before & 1 Month After Picture

Underwater Pictures
Boy Scouts High Adventure Sea Base, Florida Keys-A Reef Ball Pictorial
New Photo's Added to Dominican Republic Beach Restoration Project
Science & Technology Partnership in Coastal Zone Management:
A Sidney, British Columbia Case Study
Citrus County Bay Ball Demonstration - Photo Gallery

Birth of A Reef Ball (Photo Pictorial)
Now is the time to prepare for the Seventh International Conference on Artificial Reefs and Related Aquatic Habitats (7th CARAH) October 7 - 11, 1999 San Remo - Liguria - Italy
Holland America Cruise Lines Photo Page
Spanish River High School Reef Ball Home Page
Sidney, British Columbia Pier on Bevan Project
(Sidney Pier Artificial Reef Science)
Species Diversity Graph (May 1997)
Species Diversity Graph (Nov. 1997)
( Project Update)
Roman Stone deployed 100 Reef Balls by HELICOPTER in New York on
Aug. 20th, 1997



( Press Release)
The Charlotte Harbor Reef Association Newsletter
Reef Balls deployed in Doha, Qatar on May 10th

in the Arabian (Persian) Gulf, See the photo gallery.
English News Article, Project Summary from Occidental Petroleum of Qatar, Ltd.
Sarasota Image Monitoring (June '96)
Sidney BC Fishing/Scuba Pier Project (updated 7/1/97)

Spanish River High School Presents
The Reef Ball Construction & Deployment Project
(Boca Raton, Florida)
Clawed Lobster Enhancement Project Update,
Newfoundland, Canada!
View Reef Ball's E-Mail Updates Archive
---
Reef Ball Programs

Miniature Reef Balls
We sell six inch concrete Reef Ball models for just $20 delivered to
your US address. These exacting replicas help demonstrate Reef Balls,
are great for science projects & fresh or saltwater fish tanks.

Support The Marine Reserve Concept!
The world needs more marine reserves, show your support here and learn
why we need reserves!

Educational Programs Page
Does your school, camp, or other marine educational center have
a Reef Ball program? We've got a program for your young people
to help the environment while learning about the sea.
SAMPLE LESSON PLAN

Reef Ball Science/Research Kits for School Projects
We encourage research on all of our reefs. Get in touch with the
academic community that conducts artificial reef research.
Includes a summary of ECOSET '95
(The international artificial reef meeting in Japan)
A list of library resources and abstracts about artificial reefs.
A great place to start for research projects on artificial reefs.

FAQ
(Frequently Asked Questions)
Send us an email with a question about artificial reefs and we will
answer it on this page. Questions include, "Why are Reef Balls
Best?","Did They Really Outlaw Car Bodies in Alabama?", "Why
is pH adjusted concrete important (microsilica)?", and "Can PVC
plastics be used as an artificial reef material?"

What's In Development?
We've got our R&D teams working on the future of artificial reefs.
Find out about what they are doing!
Reef Innovations & Diving Specialists, Inc. changes name to Reef Innovations, Inc. They have also worked with Sarasota County to construct a special Bouy Marker anchor made with Bay Balls!


Classifications of Reef Monitoring Types

Reefs Around The World / Nation
Grant Program Requirements & Application
Learn what you need to do to apply for a grant from Reef Ball
for your organization to get FREE Reef Ball mold systems.
If your project is deploying multiple materials, be sure to check
Materials Not Acceptable For Use in Reef Ball Projects to learn
what reef materials are suitable in coral and non-coral waters.
Projects that do not conform to these guidelines cannot be
endorsed and are not eligible for mold use grants.
(The Reef Ball Foundation will administer this program soon)
Current Status of the World's Coral Reefs
---
Folks That Help!
Descriptions and contact information about our proud authorized
contractors including; (Plus you'll learn lot about reef balls on these pages including project contducted by our contractors.)
CORALations, Inc. (Puerto Rico),
Coral Reefs Unlimited, Carribean & Tropical Pacific
Coastal Reef Builders, Inc. (West Coast Florida & Alabama),
EMPACA (Ecoturismo Mundial Y Proyectos Ambientales, C.A.)
ECOPLAN (Brazil)-In Portuguese
ECOPLAN (Brazil-English Translation)
(Dominican Republic & Haiti)
Geothermal Energy Management, Inc. (based in Savannah, GA),
Green MARINE International (Australia, New Zealand, Papua New Guinea),
Ocean Bottom Living Memorials, Inc. (Iowa)
Ocean Trading (French West Indies),
Reef Innovations, Inc. (Orlando based),
Roman Stone Construction Company (New York)
Sea Us First (FL Keys, Dade Co., Bahamas)
Sea Systems, A division of PARDEE, Ltd. (Turks & Caicos)
Sidney Pier and Artificial Reef Group
(British Columbia, Alberta, Saskatchewan, Washington and Oregon).
Neptune Resources, Philippines
Coming Soon: Applications from:
Ecuador

Malaysia

Turks & Caicos
Do you need to have a Reef Ball reef built?
Here are the companies that are authorized to construct
Reef Balls for re-sale. We only work with the best...
and they are as committed to the oceans as we are!
Fundraising Support
Starfish Reef Builders, Inc. is a non-profit organization that helps folks raise money for Reef Ball projects by selling T-shirts. Visit their site at http://www.starfishreef.org to learn more.
---
Product Support
NEW Superplasticizer (ADVA) has been approved for use in Reef Ball admixtures, if you are casting Reef Balls and don't know about ADVA...CALL US!

Technical Specifications
for Comparing To Other Reef Materials
Learn the gross tonnage equivalency, macro & micro surface area,
bio-mass carrying capacity and number of "fish" holes in the various
sizes of Reef Balls for comparing to other artificial reef materials.
You'll see why Reef Balls are the BEST value for your budget!

Stability Analysis & Wave Tank
Testing of Reef Balls
by Florida Institute of Technology
Reef Balls are stable and have withstood even hurricanes without
movement. If the real world testing is not enough, FIT has
competed a full stability analysis and wave tank testing study to
prove Reef Ball stability for projects that involve coastal
engineering requirements.
---
Other Places To Visit

Coordinates of OVER 2,000 Artificial Reefs
As a public service, we maintain a database of thousands
of artificial reefs grouped by State (county in Florida).
Coordinates are in Loran C or Long/Lat.

Reef Related WEBSITES (Links To Other Sites)
We have compiled a great list of artificial reef, coral, ecological, conservation, scuba diving and fishing related links. Check them out!
---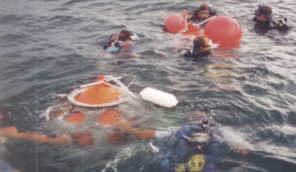 Other Stuff

Strange Reef Balls (Photos)
Folks love to experiment with their Reef Ball molds. See some of the weird ones here--a Halloween pumpkin Reef Ball, a Christmas snowed in Reef Ball, and other photos.
Do you need to add lasting serial numbers to your artificial reef structures? How about making that memorial plaque or just a name plate for your reefs.
Want to express yourself underwater?
Hundreds of articles have been written about Reef Balls. This is an index of those we know about. For just 30 bucks we'll send you a full notebook with copies of the hundreds of press clippings we keep on file about Reef Balls. (Sorry, educational and "fair use" applications only due to copyright restrictions.)
Would you like to support Reef Balls by wearing our logo and a cool T-shirt? Visit http://www.starfishreef.org to learn more.
A list of reef research teams and information about them. (Mostly in Florida). Know of other teams? Contact us we can get their information posted.

Is your company interested in sponsoring the construction of a reef? We can do it all, or just a bit for you. Learn how to help the environment while getting excellent press exposure. Work through the Reef Ball Foundation for non-profit activities or directly with a contractor for that special marketing event.
---