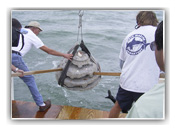 Originally Posted on
11/6/2007 10:51:04 AM
Last Updated on
11/6/2007 12:13:08 PM
Dirty Jobs features Sarasota reef program
Sarasota, Florida - Tonight at 9 p.m., the Discovery Channel's hugely popular show, Dirty Jobs, will feature footage gathered earlier this year from Sarasota County's artificial reef construction program.
The show's host, Mike Rowe, followed the crew of Reef Innovations, one of Sarasota County's artificial reef construction contractors, as it manufactured and deployed reef balls, which give shelter to fish and marine life.
During filming, Rowe helped produce a couple of the balls and the new "layer cake" ball (for lobsters and stone crab), as well as one of the fiberglass molds used to cast the balls.
The show's production team then joined Sarasota County Coastal Resources staff on a vessel donated by Mote Marine laboratory to deploy the balls.
The group braved high waves lapping over the bow of the 46-foot-long vessel to deploy the reef balls and shoot underwater footage. Back on dry land, Rowe drew a crowd at City Island's Old Salty Dog Restaurant, where he chatted up diners and restaurant employees.
Sarasota County Government & Tampa Bay's 10 News
Bookmark and Share

Reddit

Del.icio.us

Digg

Furl

Google

Facebook

Spurl

Y! MyWeb

Drudge

Fark

StumbleUpon

College Humor