<![if !supportLists]>1) <![endif]>The Global Coral Reef Alliance and the Reef Ball Foundation have formed
an alliance to offer a combination solution for CORAL reef restoration
utilizing Biorock (tm) (electrical mineral accretion) and Reef Ball designed
reefs which will include a Biorock accelerated coral growth farm (to create
2nd generation corals for transplanting) and Reef Ball propagation and
transplant technologies to be able to build new reef sites quickly at
minimal costs using only 2nd generation propagated coral fragments in less
than a year! In combination with recently introduced "layer cake" Reef
Balls, this will represent the most advanced (and ecologically sound) method
of reef restoration ever undertaken. This offering represents the Reef Ball
Foundation's strategy of bringing the world's best coral restoration
techniques to the world while adhering to our stringent environmental
standards which exceed that of all governmental regulators. If you have
ever considered seriously restoring a coral reef in a true tropical coral
reef environment on a medium to LARGE scale...this it the most advanced and
most affordable way to do it. Contact us for a specific proposal for your
project. For the grand thinker, we can even offer BioRock T sculpture parks
as coral farms, natural coral reef breakwaters to create or protect an
eroding beach, and several other site specific technologies to meet
individual project goals.

2) The Mini-Bay Ball sized Reef Ball is now in full production. Molds are
available and most authorized contractors worldwide now offer this size for
sale. Mini-Bay balls are 21 inches high and 2 feet wide...they have the
same shape as a Bay Ball. See the attached picture with diet coke can for
scale, or go to www.artificialreefs.org then click Photo Gallery, then Royal
Caribbean project (Sovereign of the Seas) and look at the various pictures
of Mini-Bay Balls.

3) Pictures from the Royal Caribbean project at Coco Cay (Sovereign of the
Seas) are now online. They include photos of our new layer cake Reef Balls.

4) Reef Ball is expecting an application from a potential authorized
contractor for Nova Scotia, Canada this week.

5) Reef Ball and Manatee County Artificial Reef Program staff will be doing
coral transplants onto Reef Balls in Manatee County (offshore) next month.
If you are interested in joining us, contact Reef Ball H.Q. (NEP and
Sarasota AR Program staff will be invited too).
<![if !vml]>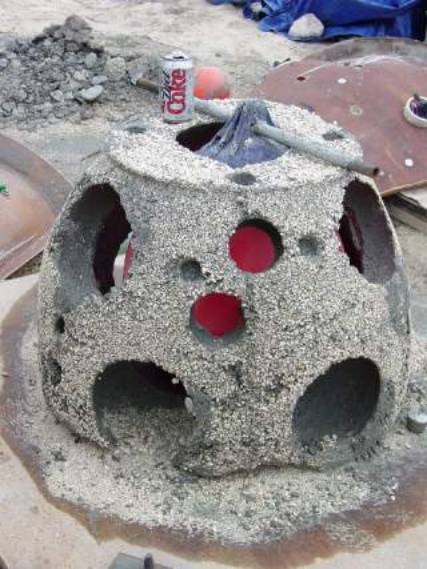 <![endif]>