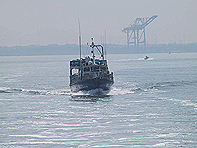 Not to be left behind, the students join the fun from aboard Lynnhaven Dive Center's Miss Lindsey.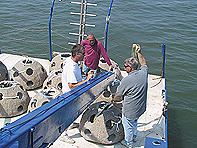 Prepare to launch the first ball. . .
Steady, steady! Lower away!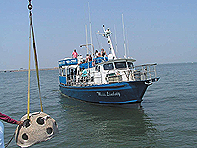 First Class boat ride, hot dogs and sunshine, not a bad deal for the Lindsey's crew. Good job everyone and Thanks!
For more information on reefs please visit the VMRC web site at
www.state.va.us/mrc
from there you can click on the index and scroll down to the Artificial Reef Program.