A Hydrodynamic Study of Artificial Reefs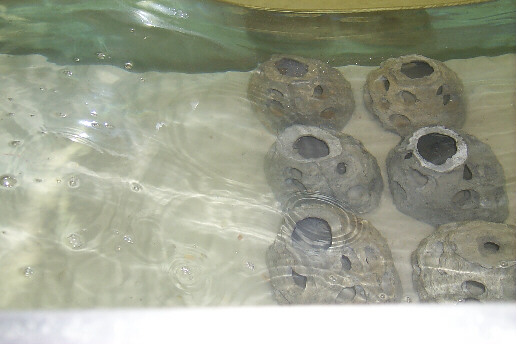 Researcher: Midshipmen 1/C Tara Inverso, USN, Advisor: Associate Professor Jennifer Waters, Staff Support: Mr. Stephen Enzinger, Naval Architecture Technician and Ms. Louise A. Wallendorf, Ocean Engineer, P.E.
Artificial reef balls are semi-spherical, porous concrete forms placed in shallow water coastal locations for artificial reef construction. Some of the hydrodynamic properties of the reef balls were studied for a preliminary evaluation of their effectiveness in shore protection. The drag coefficient of a reef ball was measured by towing different balls underwater at various orientations and speeds in the 120-foot towing tank. The reef balls were tested in the coastal engineering wave flume where they were placed at three locations in two configurations for a given beach profile and subjected to regular waves. The beach profile was measured and the wave heights before and after the reef were measured.
---
Return to Ongoing Research Page