We would like to let you know that Marjo & Maryke have just begun the  2nd quarterly fish and coral monitoring session at Plantages "PortoMari".  The motivation for the frequency of the monitoring sessions is explained  in the PortoMarea Marine Monitoring Manual, and includes seasonal  changes in water temperature, fish populations, coral health and growth, etc.
The data collected from the first monitoring session were produced as a  34-page hard-copy report, as well as an electronic version on compact  disk and delivered to Paul Spiertz.
The data has also been sent, on behalf of Plantages "PortoMari", to:
REEF – Reef Environmental Education Foundation – www.reef.org
REEF CHECK – www.reefcheck.org
Reef Ball Foundation – www.reefball.org.
It is hoped that, with all these various foundations publishing the data, people will become more aware of Curaçao, and that we  are actively involved in conserving our reefs, particularly at "PortoMari".  In addition to having placed Reef Balls (the latest batch of 100 balls was placed on April 6, 2002), we have also made and transplanted  'coral plugs' in order to give the restoration of the reef a head start.
Coral plugs that were placed on the west side of the bay in April 2001,  specifically the Staghorn corals and Gorgonians, are doing quite well.  The Staghorn corals have begun to cover the base of the plugs with new  growth, in addition to extending the length of their branches (the white tips on the ends of the branches in the photo are new growth)--a positive sign of health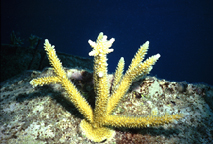 On March 23, 2002, we made another 24 Staghorn coral plugs and placed
them on Reef Ball Cluster 12L on the east side of the bay. Photos were taken a week later, on March 28th, and all the plugs appear to be doing  well. These new plugs will be incorporated into the data for the 2nd quarterly monitoring session.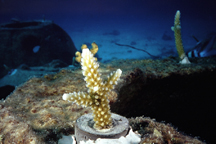 We are always pleased to respond to any question or comments you might
have.
Best regards, Marjo & Maryke
Marjo – mvdbulck@yahoo.com
Maryke – maryke@interneeds.net
<![if !supportEmptyParas]> <![endif]>
<![if !supportEmptyParas]> <![endif]>